Posted on
Sun, Aug 8, 2010 : 5:45 a.m.
As Ypsilanti's Dalat Restaurant celebrates anniversary, owner Lang Bui eyes future
By James Briggs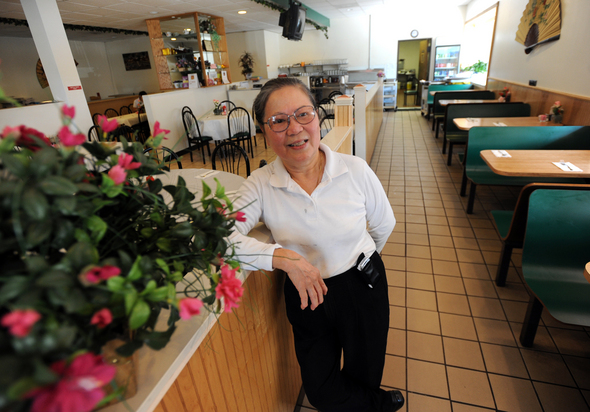 Lon Horwedel | AnnArbor.com
The 10th anniversary of the Dalat Restaurant comes as a reminder to Lang Bui, the owner, that she isn't getting any younger.
Bui opened her first authentic Vietnamese restaurant in 1990 at 421 Cross St. in Ypsilanti. But having outgrown her small space, Bui moved to a prime location at 100 W. Michigan Ave. in July 2000.
Bui's storefront neighbors have fallen in and out of occupancy during the last decade —Â many having been vacant for years —Â but the Dalat Restaurant continues to thrive.
"My customers, they know me," Bui said. "We keep going."
Customers who appreciate Dalat's commitment to authenticity travel from Ann Arbor, Novi, Southfield and even further, Bui said. Many loyal patrons, especially Vietnam natives, have even written letters expressing how much the restaurant means to them.
"'I don't have a place to eat,'" Bui said her customers tell her.
Many other Vietnamese restaurants are such in name only, Bui said. "We understand how we eat," she said.
Sticking strictly to Vietnamese cuisine comes at a cost, though. Bui has had trouble finding employees outside her own family who are experienced in cooking Vietnamese food. Some have tried it, but haven't been able to catch on.
Besides Bui, 68, the only people who work for the restaurant are her husband, Hoanh, and two daughters-in-law.
Bui, who works six days a week, is starting to feel the demands of the job. "I don't have enough people working. I need people to help me," she said.
Bui has a sister in Vietnam who has tried unsuccessfully to immigrate. Short of finding more family members who can keep the restaurant going, Bui said she hopes she can find the right people to keep it going at least another decade or two.
"I want to keep Vietnamese alive," Bui said. "I'm old now. I can't do so much as before."
But, Bui added, she only wants to keep the restaurant going if it meets her standards.
"We cook everything fresh and healthy," she said. "That's why I have a lot of customers."