Posted on
Sun, Dec 16, 2012 : 5:59 a.m.
At Ann Arbor's Falling Water, themes of peace and gratitude resonate this holiday season
By Lizzy Alfs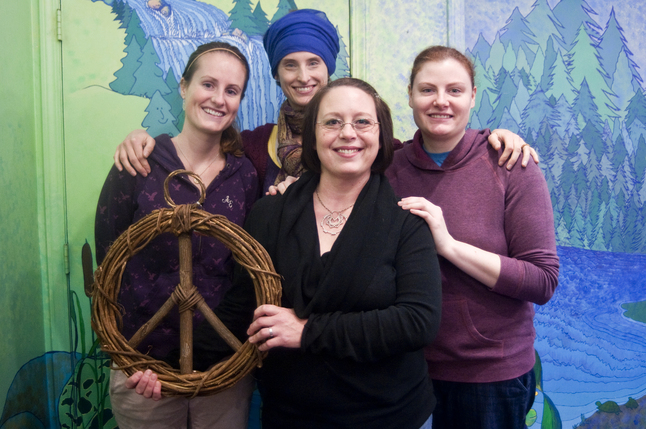 Joseph Tobianski | AnnArbor.com
When
Jim Johnston
recalls his 24 years of operating
Falling Water
on Ann Arbor's South Main Street, one word comes to mind: gratitude.
"I've always thought about (Falling Water) as a gift in my life, and I've tried to honor that as best I can," he said about his years as a store owner.
For many people, feelings of gratitude and peace are easily forgotten during the hectic holiday season. That's why Jim and his daughter, Jessica Johnston, decided to erect a "peace wall" inside the store's window at 213 S. Main St. this year.
Joseph Tobianski | AnnArbor.com
The window reads "Let there be peace on earth and let it begin with me," and it includes a collage of signatures that is growing by the day.
"(The wall is) putting an energy out there that is saying, 'we really support the idea of peace in the world for everybody,'" Jim said. "This just gives a physical way to say that."
"It's something that was interactive with the community that we thought really is the message of the holiday season," he continued.
Jim and three other business partners opened Falling Water on South Main Street in 1989 after operating the store on South Ashley Street for a year prior.
"We didn't envision anything, we just sort of opened. We didn't know much about business, we really didn't," he said. But Jim, a lover of books and a former manager of the original Borders bookstore, wanted to open "a little shop that had books and a creative aspect to it."
A quarter-century later, Falling Water is still that little creative shop with greeting cards, books, jewelry and other fair trade gifts from around the world. Jim said the store has evolved, but the nature of it has stayed the same.
Jim and Jessica are the first to admit that operating a small retail store is a challenge. Jessica said it's getting increasingly difficult to survive in the "big business world."
"It's getting harder and harder for small businesses to operate in the big business mentality," she said. "Take shipping rates, for example: we aren't in a position where we can offer things like free shipping."
They've made adjustments to the store throughout the years, such as bringing in lower-priced inventory and eliminating a gold jewelry line. Jim recalled a $3,000 hand-carved trout table that sold at Falling Water years ago.
"That was extraordinary, but those times have passed," he said.
Still, he said, Ann Arbor has a "vital and vibrant" downtown area, and people are interested in supporting small business owners. He also said some customers have been coming in the store for more than 20 years.
It's those customers — new and old — that make Jim and Jessica both passionate about what they do, and thankful this holiday season.
"We got a card in the mail that says, 'I'm grateful for your existence,'" Jessica said. "It's moments like that; it's special."
Jim added: "It's not always passion, but I am still profoundly grateful for this store and to be a part of it and I always have been. That's the truth."
Lizzy Alfs is a business reporter for AnnArbor.com. Reach her at 734-623-2584 or email her at lizzyalfs@annarbor.com. Follow her on Twitter at http://twitter.com/lizzyalfs.