Posted on
Fri, Nov 30, 2012 : 5:57 a.m.
Atari and Chuck E. Cheese's founder's newest company leasing Ann Arbor office space from Sava
By Ben Freed
Web startup company Oomba has a catchy name, California headquarters and well-known founders. Next week, the company also will have its first satellite office in downtown Ann Arbor.
The office's general manager Jon Gagnon said the company already has four employees in Ann Arbor and hopes to expand the office to 11 people as quickly as possible. The new office will be at 216 E. Washington St. and is scheduled to open Saturday.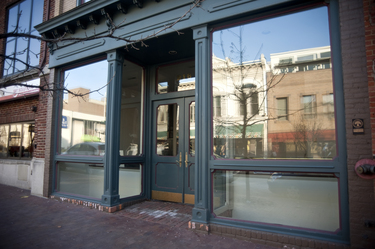 Joseph Tobianski | AnnArbor.com
"We really want to recruit aggressively right now," he said.
"We're looking for engineers, mobile developers, front-end designers… really anyone interested in working on the cutting edge of consumer Internet design."
Local restaurateur Sava Lelcaj owns the building the company is moving into. According to city records, Lelcaj bought the property on Washington Street in late September for $750,000. Neal Warling of Jones Lang LaSalle brokered that deal.
"I originally intended to open something [food related] there, but it didn't quite work out with the timing," Lelcaj said.
Oomba will be renting approximately 2,000 square feet in the building for its offices. The deal was made without a broker and the lease rate is undisclosed.
"We'll see what happens moving forward," Lelcaj said. "They expect to outgrow that space within a year though, so they're only on a one-year lease."
Gagnon said Ann Arbor was chosen for an office because of the strong talent base and the favorable cost of living compared with the two coasts.
"You have such incredible talent coming out the universities here, it's awesome," he said.
"There's also the history of successful Internet-based tech startups in Ann Arbor. There have been a number of them and the history drives further investment. It's really becoming a hub for tech startups."
Oomba runs challonge.com, a website that helps users create and manage tournaments in both the on and offline worlds. Using the website, people can create brackets and manage their tournaments through either printing brackets out, using modules on the site, or integrating code into external sites.
"Right now, these tournaments, and getting more people using challonge is the focus," Gagnon said.
"They can be anything from chess tournaments, to League of Legends. We've had people using them to make basketball and beer pong tournaments, or FIFA and Halo."
The company raised a seed round of $700,000 and is working on a multi-million dollar Series A funding round right now, Gagnon said, despite not having an obvious revenue source.
One reason the team has been able to raise money is that its co-founders include chief visionary officer Nolan Bushnell and CEO Michael Williams. Bushnell has a distinct status in the startup world as the founder of both Atari and the Chuck E. Cheese's empire.
Williams has been involved with a number of other companies as well, including CodeFire Studios and Reality Gap.
In addition to being the general manager of the Ann Arbor office, Gagnon also is the vice president of "trading" for the company.
"We have a VP of product, and then I'm the VP of product for trading," he said.
"Trading is a piece of our puzzle that I can't really talk about yet, but it will be very big. That's a big part of what we want to do here in Ann Arbor is build the team that will build that 'trading' product."
Ben Freed covers business for AnnArbor.com. You can sign up here to receive Business Review updates every week. Reach out to Ben at 734-623-2528 or email him at benfreed@annarbor.com. Follow him on twitter @BFreedinA2