Posted on
Tue, Jul 9, 2013 : 5:59 a.m.
Hollister closes in Briarwood Mall; Athleta to open 1st Michigan store
By Erica Hobbs
Athleta, a clothing store specializing in women's work-out wear, is taking over the space formerly occupied by Hollister at Ann Arbor's Briarwood Mall.
Denise Murray, director of marketing and business development at Briarwood, said Hollister officially closed its doors Saturday after its lease came to an end.
She said Athleta will begin renovating the space this summer and expect to open in November or December.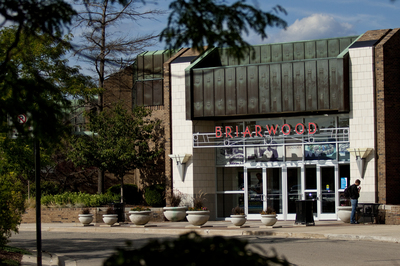 AnnArbor.com file photo
"I believe we're bringing in exciting retail to add balance and give a little more variety to our retail mix," she said. "We've been working very aggressively to improve the variety we have at the mall."
The 7,527-square-foot space is located between Banana Republic and Ann Taylor in the Sears wing of the mall.
According to the press release, Athleta offers "stylish workout wear for the on-the-go woman," and is known for its "sweet, feminine designs for active lifestyles." The company offers a range of athletic wear, including clothes for yoga, running, hiking, swimming, golf, tennis, cycling and general workout wear. It also offers swimwear, dresses, underwear, shorts, skirts, pants sweaters, jackets, shoes and accessories.
It is known for its "give-it-a-work-out" guarantee, which encourages customers to exercise in their new clothes and "Love it or return it. Anytime. Any reason."
Athleta also offers in-store fitness classes and events, though details weren't immediately available if and when those classes would be available at the Briarwood store.
"Ann Arbor is a city that cares about health and fitness, and this store will be a great addition for the women in the community," Murray said in a press release. "They will be able to be comfortable and look amazing as they live their active lifestyles."
Athleta is headquartered in Petaluma, Cali., and is part of the Gap company, also of which includes Banana Republic, Old Navy, Piperlime and INTERMIX. It was founded in 1998 and acquired by the Gap in 2008, according to its website. It has more than 40 stores in the United States, though the Briarwood store will be its first in Michigan.
Gap Inc., based in San Francisco, reported first quarter net sales of $3.73 billion in May, up 7 percent from the year before and reported May sales 11 percent higher than last year.
Hollister is headquartered in New Albany, Ohio and is part of Abercrombie & Fitch which also owns abercrombie kids and Gilly Hicks. The company reported first quarter net sales of $838.8 million, which is down 9 percent from last year and an 18 percent decrease in total sales for its Hollister brand. The Briarwood store was one of 15 in the state.