Posted on
Wed, Apr 13, 2011 : 5:55 a.m.
Aubree's Pizzeria & Tavern planned for ex-North Point restaurant space in Dexter
By Paula Gardner
An Aubree's Pizzeria & Tavern franchise appears headed for Dexter in the space that had been occupied by North Point Seafood & Steak House until it closed suddenly in February.
A partnership called Dexter Capital LLC received approval this week from the Village Council to transfer an escrowed liquor license for the new business, which will be located at 8031 Main.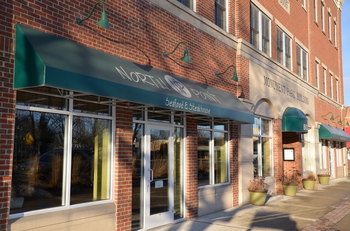 Special to AnnArbor.com
The building, called
Monument Park,
was developed by
A.R. Brouwer
of Dexter. The company's president,
Steve Brouwer
, is listed as a partner in the new venture.
Also listed on the village's application for the transfer is Ron Evangelista. He said he couldn't confirm the new restaurant would be an Aubree's outlet, but he did say a family-style pizza and sports bar is in the planning stages.
Demolition of the former restaurant's interior is under way, Evangelista added.
Aubree's Saloon has been an anchor destination in Ypsilanti's Depot Town for many years, more recently expanding to locations in Ypsilanti Township and Northville.
Aubree's owner Bill French and Andy French, his son, have been developing plans to franchise the concept, with the goal of opening several regional locations by year-end.
"We think we have a great story to tell," Andy French told AnnArbor.com for a recent story. "Michigan's economy has been tough for a number of years, and we've been able to be successful in it. We believe the pizza-beer-casual restaurant setting will be successful in any economic time."
According to council documents, Amy Bulszewicz of Pinckney is the president of Dexter Capital LLC, which is registered with the state under the name Rob Bulszewicz of Livonia. Amy Bulszewicz was not available to answer questions about the restaurant.
The Dexter outlet of Aubree's Pizzeria & Tavern would be the sixth under that name and should open by mid-June, according to the village. It also plans to offer outdoor seating.
Paula Gardner is Business News Director of AnnArbor.com. Contact her at 734-623-2586 or by email. Sign up for the weekly Business Review newsletter, distributed every Thursday, here.