Posted on
Wed, Aug 24, 2011 : 1:12 p.m.
Auctions may decide fate: Will Borders stores in downtown Ann Arbor, Pittsfield get new tenants?
By Lizzy Alfs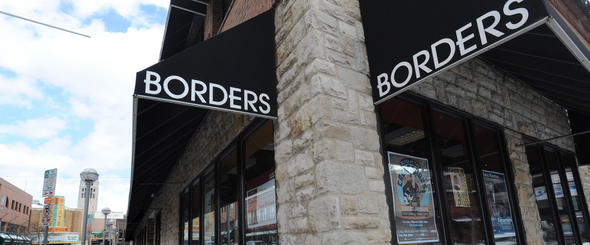 AnnArbor.com file photo
Bids are currently being accepted for the leases at the two remaining Borders superstores in Washtenaw County, with an auction scheduled for Sept. 13.
DJM Realty, a unit of Borders asset liquidator Gordon Brothers Group LLC, is auctioning off Borders leases for the remaining 399 locations in two separate rounds.
Bids for the first lease auction are due by 3 p.m. Aug. 26 with an auction that will be held Aug. 31. A court hearing to approve sales in the first auction would take place Sept. 8.
The lease for Borders flagship store in downtown Ann Arbor and the lease for the superstore on Lohr Road in Pittsfield Township are included in the second round of lease auctions. Bids are due by 3 p.m. Sept. 7, and auctions would take place Sept. 13 if more than one bid is received for each store. A hearing to approve the sales would be held Sept. 20.
After filing for Chapter 11 bankruptcy in February, Ann Arbor-based Borders Group Inc. announced July 18 that it would liquidate the rest of its stores. That process is expected to be completed in September.
The lease for the flagship store on Liberty and Maynard streets in downtown Ann Arbor was signed through 2025, according to a DJM listing. The lease for the Lohr Road location was set to expire in 2019.
Andy Graiser, president of DJM Realty, recently told AnnArbor.com that after the auction process, the leases may be adjusted between the new tenants and landlords.
If no offers are made on a Borders lease, Graiser said the lease will be terminated and landlords can begin seeking tenants to start a brand new lease.
The downtown Ann Arbor retail building has multiple ownership entities, including a family trust and Agree Realty Corp., which has controlled the property after a complex series of leases and land leases.
According to a DJM listing, the annual asking price for the 39,876-square-foot downtown store is $20.55 per square foot.
Local developer Tom Goldberg is an owner of the Lohr Road property, which is located in the Waters Place Shopping Center. The annual asking price for the 28,500-square-foot location is $18.75 per square foot, according to DJM.
It is not clear what types of prospective tenants, if any, are considering bidding for the local Borders leases. Nationally, Graiser told Bloomberg TV in July that he expected party stores, pet stores, dollar stores, supermarkets and bookstores to be among the possible bidders.
Lizzy Alfs is a business reporter for AnnArbor.com. Reach her at 734-623-2584 or email her at lizzyalfs@annarbor.com. Follow her on Twitter at http://twitter.com/lizzyalfs.