Posted on
Thu, Nov 18, 2010 : 6:01 a.m.
Avis Farms building foreclosure turns into expansion opportunity for 2 Michigan companies
By Paula Gardner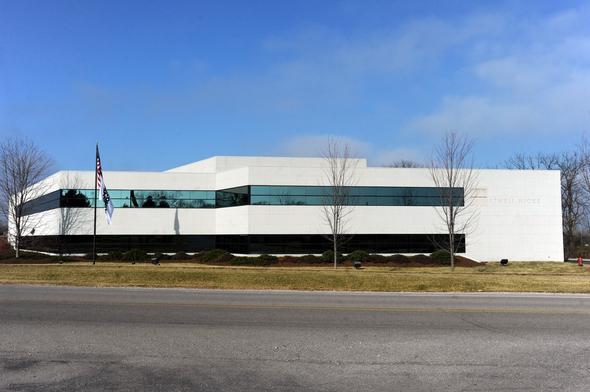 Melanie Maxwell | AnnArbor.com
Commercial foreclosures and property devaluation remain somber topics as many in the real estate industry brace for ongoing upheaval in that realm.
But in telling the latest chapter in a story of one local building, I've also tapped into two companies that are committing to expansions and ongoing investment in this area.
The first: Phoenix Contact, a German technology company with U.S. headquarters in Pennsylvania and an office in Pittsfield Township.
That office - which houses software development, sales and support functions for many autootive clients- was long-based at 935 Technology Dr. in Avis Farms Business Park.
But as its lease there was set to expire this fall, the company sought new options. What it found was the opportunity to buy a foreclosed building in the same business park.
And what it accomplished with the move, besides adding space to expand and turn the local office into a showcase operation, is leaving space for another local company to grow.
That company: Amcor, a neighbor of Phoenix Contact in 935 Technology Dr. and also a company that was searching for space for an expansion.
Amcor needed 15,000 square feet. Phoenix vacated 15,000 square feet.
The math was perfect.
"It's great to retain the businesses in that area," said Cam McCausland, director at Colliers International's Southfield office and a longtime specialist in the Avis Farms area.
That's how both businesses are reacting, too.
Vince Carioti, global automotive manager at Phoenix Contact, said his company's deal for the its new office at 500 Avis Dr. moved quickly. The deal closed on Oct. 29, and the company started its move within days.
The vision for the property is to set up temporary offices for the 30-some employees, then work with architects on a more permanent look and move around in the extra space while construction crews make it happen. Eventually, there will be a live demo area with equipment and industrial connectivity products.
"We want to make this a showcase for our company," Carioti said.
The building is 27,160 square feet, sitting at the entrance to Avis Farms from South State Road.
It was sold in 2007 for $5.7 million to investors from California, at that time setting a new price point for local office property.
But the economy took its toll on the building. Long-time tenant Atwell-Hicks Inc. moved out in 2009, as part of its transition into a smaller operation.
And the property ended up back in the hand of lender US Bank, turning into one of the larger commercial foreclosures of early 2010 in Washtenaw County. It started on the market with an asking price of $4.2 million.
The final purchase price is not yet disclosed. Carioti said there's a 7-year payback from buying rather than leasing, and Phoenix Contact's German headquarters approved of that scenario. They worked with Jay Chavey and Dave Miller of Signature Associates to make the deal happen.
At least $1 million will be invested into the upgrades of the property.
"For us, it's a great commitment by our company," Carioti said. "Even in these times, which are starting to get better, we're obviously making a commitment to Michigan and to Ann Arbor."
Amcor can be making the same statement.
The global packaging company - the world's largest food container manufacturer - had operated its rigid plastics division out of Avis Farms, while also running a manufacturing operation in Manchester.
After two acquisitions this year, "we have more people and we need more space," said Shelley Steele, director of communications.
Today, there are 40 people in the Avis Farms office, with staff running the division and also offering support to other Amcor operations.
"We have some people sitting in hallways," Steele said.
After exploring a possible move, the option of staying in the building was too good to pass up.
"The sum total (of both offices) was too good to pass up," Steele said. "Nothing else fit quite as well."
The timing of Amcor's move hasn't been determined. Phoenix Contact is welcoming colleagues from Germany as they finalize their plans, and Carioti looks forward to hiring 4-5 people over the next year.
Meanwhile, area commercial real estate agents know they'll be dealing with more million-dollar foreclosures. And that not all will sell within months of a listing in a circumstance that opens opportunity for two companies.
But amid a scenario when a top-of-market deal tumbled into an investment and lending crisis, the conclusion is about as good as it can get - for the participants and the business community.
Paula Gardner is Business News Director of AnnArbor.com. Contact her at 734-623-2586 or by email. Sign up for the weekly Business Review newsletter, distributed every Thursday, here.