Posted on
Mon, Aug 2, 2010 : 6 a.m.
As economy slowly improves, Ann Arbor area retailers gear up for back to school shopping season
By Laura Blodgett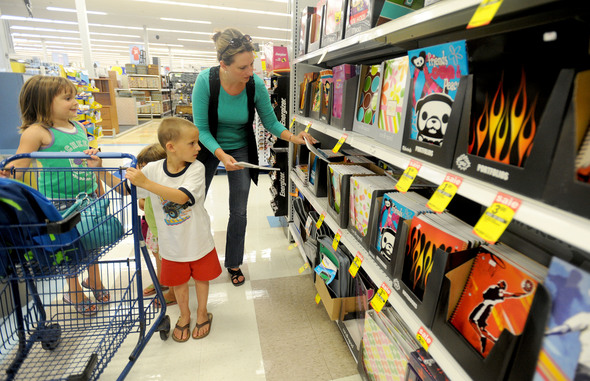 Angela Cesere | AnnArbor.com
School may not start for Michigan students until September but back-to-school shopping is in full swing, with perhaps the most telling sign on July 14 when Staples rung in the season by opening the Nasdaq market with the first bell.
Although it may seem to be getting earlier each year, back-to-school merchandise—especially for large retailers -- is generally rolled out nationwide by now. Though Michigan passed a law to start school after Labor Day to extend the state's tourism season, much of the rest of the country—especially in the South -- returns to school by mid-August.
Luckily for Michigan businesses, retailers seem to be more optimistic heading into the season this year, according to Tom Scott, senior vice president, communications and marketing for the Michigan Retail Association.
"The Michigan economy is slowly improving," says Scott. "Although we're not out of the woods yet, we really hit bottom in terms of retail sales last spring. Since then, we've just seen gradual improvement. In fact, February through April this year was the best months we've seen since 2004."
In fact, some national forecasters are very optimistic. The Internal Council of Shopping Centers estimates a 5.4 percent increase due to back-to-school shopping while the National Retail Federation expects a 10.5 percent increase.
"Although that seems a little too optimistic, Michigan has been running at least as well as the national numbers recently," says Scott.
Another positive indicator is the recent drop in unemployment as well as the recent extension of unemployment benefits, which may come at just the right time to spur back-to-school sales.
"Another positive is that there are many young people—and even not so young people--going back to school in this economy" adds Scott."So at least on the higher education side more people may be spending this year."
These days, back to school is not only supplies, but also clothing, stationery and electronics including laptops, cell phones and iPods. "The expansion of the dorm experience from a place where you sleep to somewhere you live, cook and entertain friends, has taken back to school to a whole new level."
In fact, Frank Guglielmi, director of public relations at Meijer, said the chain has both back-to-school and back-to-college categories, and their store locations across the Midwest are already stocked for the season.
For Meijer, this is a very important season. "Back to school really kicks off the fourth quarter for us," he said. "We go right from back to school to Halloween, Thanksgiving and the holiday shopping. It is the beginning of the peak season in retail in general."
Over the years, Meijer has learned that cross promotions work well for them throughout the back to school period.
"Promotions where you purchase a Frito-Lay item and get an instant $10 coupon for athletic shoes are very popular," says Guglielmi. "A retailer like Meijer has a bit of an advantage in this area because we are a one-stop shop. Food brands like Nabisco and General Mills like to do these, and we work with our vendors to do them on weekly basis throughout this period."
This translates well for the back-to-college category, especially in a town like Ann Arbor. "Meijer is a favorite destination for college kids, and we focus on bringing all the back-to-college needs together to create one convenient experience--school supplies, alarm clocks, printer paper, clothing, consumables. We also have added new brands into the store this year, including Adidas, New Balance, Samsung and HP."
For the past few years, Meijer has even partnered with local universities for a Back-to-College Night. Geared to incoming freshmen, the store features rock climbing walls and Guitar Hero contests and local college gear on sale. The Meijer store on Ann Arbor-Saline Road will hold its event from 9 p.m.-1 a.m. Sept. 3, while the Carpenter Road store in Ypsilanti will hold its college night from 7-11 p.m. Sept. 9.
Another item Meijer is unveiling for college this season is a reloadable gift card, which parents can give to their student and reload from any Meijer location. The card will be available only between Aug. 8-Aug. 22 although the cards can be reloaded indefinitely.
The best back-to-school sales for Meijer, however, are still supplies: the backpacks, notebooks, pencils and glue sticks that make up the K-12 school lists that local teachers pass out each fall. Meijer works with its suppliers to offer drastically low prices including deals such as 70-count notebooks for just 5 cents.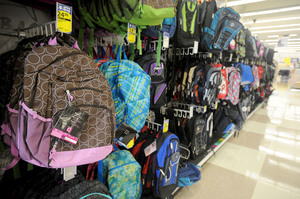 This year Guglielmi says the look is returning to 1980s fluorescent colors and designs. Backpacks with one sling rather than two are also gaining in popularity.
Over at Target, turquoise, lime green and purple are the hot colors this season, according to Tara Schlosser, PR, Target Category. "Bright, bold floral and striped patterns can be seen up and down Target aisles. Students can find Paul Frank for Target stationery, bright storage bins, graphic print Trans by Jansport Supermax backpacks and more."
For Bivouac owner Ed Davidson, back to college is more important than high school, since "we have 35,000 college students directly across the street from us."
"Normally, we get rid of the end of summer clearance during the Art Fair and then typically get our fall merchandise at the beginning of August."
Their top-selling merchandise includes backpacks, book bags and fleece. They also sell many winter coats early as parents come into town to drop off their kids and decide to take care of that large item right away.
"The big week for us is the week of orientation," says Davidson.
A popular new item they carry is the Vibram Five Finger shoes with individual toes. On the women's side, J Brand Houlihan cargo pants continue to be a big trend since spring break, according to Nikki Hartwig, Women's fashion manager at Bivouac.
"With college students, we also always have a market for nightwear and 'going out' dresses. We have a lot of students here from both the east and west coasts, and they are really up on trends. The girls are shopping for the same things they shopped for in L.A. and N.Y., like Michael Stars and Splendid T-shirts, Citizens of Humanity jeans, Seven Jeans, J Brand, Marc by Marc Jacobs. They are very brand driven."
For the record, jeggings— leggings that appear to be made of denim—are not going anywhere, according to Hartwig.
While back to school may seem to start earlier each year, the real trend has been the expansion of the season even further into September.
"The explanation being that many kids want to wait to get back to school and see what everybody is wearing before they complete their wardrobes," Scott said.
Laura Blodgett is a freelance writer for Business Review.