Posted on
Thu, Apr 12, 2012 : 5:59 a.m.
Bank of Ann Arbor moves: Washtenaw office to close, new Saline branch to open
By Paula Gardner
Bank of Ann Arbor plans multiple changes in Washtenaw County this year, starting with the closure of its banking convenience center on Washtenaw Avenue at Pittsfield Boulevard.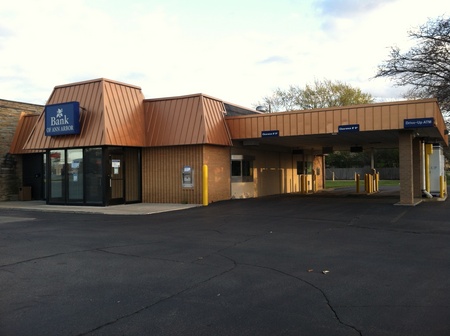 Paula Gardner | AnnArbor.com
That office - now only used for drive-up and ATM service - will close May 15, officials said.
But as it plans one closing, the largest locally owned bank in the county also plans two additional office changes this year to accommodate growth:
It will expand into a new location in Traver Village on Plymouth Road, where it will triple its space now at the rear of the northeast Ann Arbor shopping center by moving into about 1/3 of the former Blockbuster video store.

And it will open a new office in Saline after purchasing the former Bank of America branch at 179 E. Michigan in early March.
"We've been very fortunate to have strong growth based on being a community bank and being active in the community," said Patti Judson, first vice president of the bank.
Bank of Ann Arbor is the Ann Arbor region's 5th largest bank, based on deposits in the market as tallied by the FDIC for a report issued June 30. It operated 10 offices in the county and one in Plymouth at the time of the report, the most recent available.
The market share was 9.04 percent, based on $562 million on deposit. Bank of Ann Arbor followed TCF Bank (14.35 percent), JP Morgan Chase Bank (13.26), PNC Bank (11.98) and KeyBank (9.53) in the local rankings.
The recent decisions to make location switches represent different opportunities converging at the same time, Judson said.
In the case of the Washtenaw office, the building had been leased from owner Duane Renken for many years, but as the lease renewal approached, a deal could not be reached, Judson said.
"The building itself had deteriorated over the years," Judson said. "... We were not able to renegotiate (an acceptable lease)."
Customers have been notified of the closing, she added.
The 2,090-square-foot building is listed for lease at $34 per square foot by broker Michael Lippitt of Landmark Commercial.
Washtenaw customers are being redirected to the Ellsworth Road office and also the one in Traver Village.
Construction is under way in Traver Village, said Chris Grant of landlord First Martin Corp.
"It's a very prominent location right under the clock tower," Grant said.
The new office will have community room space and better parking as the former video store and nearby parking lot undergo some reconfiguration.
In Saline, the bank saw the opportunity to open just east of downtown in the former Bank of America building, which had been listed for sale last fall.
First Martin closed on the building on behalf of the bank on March 6, according to county records. The purchase price is recorded at $452,001.
Saline customers of the bank already use the Ellsworth location, Judson said, but the new branch should encourage more growth in that market.
The bank hadn't been looking for a specific location there, but "the opportunity presented itself for a bank building to be available in a market that we thought had great potential," Judson said.
Staff will be moved from the Washtenaw location to others, Judson said, and additional hiring is anticipated for Saline.
Paula Gardner is news director of AnnArbor.com. She can be reached by email or followed on Twitter.