Posted on
Sat, Oct 1, 2011 : 12:32 a.m.
Barnes & Noble CEO: 'We're very sorry your Borders store closed'
By Nathan Bomey
Barnes & Noble CEO William Lynch told more than 40 million customers in an email tonight that Borders customers would have about two weeks to ask for their personal information to be excised from a list the New York-based bookstore chain bought from Borders.
First, though, he took the opportunity to say a word about the demise of Barnes & Noble's 40-year-old Ann Arbor-based competitor.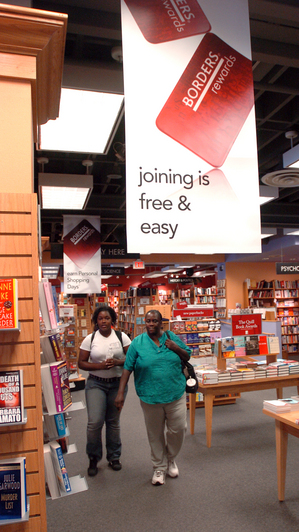 File photo | AnnArbor.com
"Let me say Barnes & Noble uniquely appreciates the importance bookstores play within local communities, and we're very sorry your Borders store closed," Lynch wrote.
The mass distribution of the email was part of a deal in which Barnes & Noble promised a U.S. Bankruptcy Court judge in Manhattan that it would give Borders customers the opportunity to opt out of the transfer.
Barnes & Noble bought Borders' customer loyalty list, which includes millions of names, email addresses, physical addresses, phone numbers and some purchase information.
B&N paid $13.9 million to acquire Borders' brand name and website, which the company plans to close Oct. 14. That decision raised questions about the future of the Borders brand. Barnes & Noble representatives did not respond to AnnArbor.com requests for comment.
"Our intent in buying the Borders customer list is simply to try and earn your business," Lynch wrote. "The majority of our stores are within close proximity to former Borders store locations, and for those that aren't, we offer our award- winning Nook digital reading devices that provide a bookstore in your pocket. We are readers like you, and hope that through our stores, Nook devices, and our bn.com online bookstore we can win your trust and provide you with a place to read and shop."
The email says customers who want to opt out of the data transfer must visit www.bn.com/borders before Oct. 15. It also says customers who allow their data to be transferred can "be assured your information will be covered under the Barnes & Noble privacy policy."
Contact AnnArbor.com's Nathan Bomey at (734) 623-2587 or nathanbomey@annarbor.com. You can also follow him on Twitter or subscribe to AnnArbor.com's newsletters.