Posted on
Fri, Sep 30, 2011 : 2:09 p.m.
Barnes & Noble to shutter Borders' website
By Nathan Bomey
Barnes & Noble plans to shutter Borders' website and redirect customers to its own website.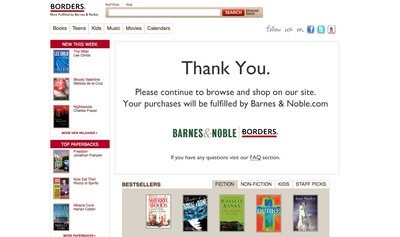 Customers who visit Borders.com will be automatically directed to BarnesandNoble.com after Oct. 14, according to a
page posted by Barnes & Noble on Borders' site
.
The move comes after Barnes & Noble received approval from a U.S. Bankruptcy Court judge earlier this week to acquire Ann Arbor-based Borders Group Inc.'s brand name and website for $13.9 million.
The decision to end Borders' website raises questions about the future of the Borders brand.
Barnes & Noble spokespeople did not immediately respond to requests seeking comment. Rosalind Thompson, Borders' senior vice president for human resources, said in an email "we do not know what the plan is."
According to the website, Borders' online customers are already being redirected to BarnesandNoble.com for order fulfillment. After Oct. 14, they'll be redirected to BarnesandNoble.com for their entire shopping experience.
Barnes & Noble also said it's not accepting Borders gift cards, exchanges or loyalty cards. Barnes & Noble, which sells its own electronic books reader called the Nook, has also stopped Borders.com from accepting e-book orders.
When Borders filed for Chapter 11 bankruptcy in February, online sales made up about 3 percent of the company's revenue.
Borders famously outsourced its web presence to online competitor Amazon.com in 2001 only to end the relationship in 2008 and create its own website. But analysts said the company's failure to capitalize on the web played a key role in its demise. Nonetheless, Borders.com gets millions of visitors a month.
Borders has closed all of its stores and laid off more than 10,000 workers as part of its liquidation. The company's downtown Ann Arbor store closed Sept. 12.
Contact AnnArbor.com's Nathan Bomey at (734) 623-2587 or nathanbomey@annarbor.com. You can also follow him on Twitter or subscribe to AnnArbor.com's newsletters.