Posted on
Fri, Nov 16, 2012 : 5:57 a.m.
Barracuda moves: Tour the new office space in downtown Ann Arbor
By Lizzy Alfs
Barracuda Networks' headquarters might be in California, but the company's strategic focus is right here in Ann Arbor.
And with new offices on Maynard Street in downtown, Barracuda is poised to expand its local workforce while investing in the community.
"This is a really attractive center to grab the best talent in the area," said Sean Heiney, Barracuda's vice president of strategic initiatives.
Blair Hankins, Barracuda's vice president of engineering, added: "We're excited to be able to hire like we want to. We were too packed at our other location."
Barracuda, a network security firm whose products protect clients from threats over email, web and IM, signed a lease in June to move its offices from a 12,000-square-foot space on Depot Street to 45,000 square feet on Maynard Street. The new, three-story office is attached to the former Borders bookstore and partly underneath the public parking garage on Maynard.
The company's 200 Ann Arbor employees have started moving offices, and the plan is to have everyone moved to Maynard by next week, Hankins said.
Photo by Stevie Blyler
In the five months since Barracuda signed the lease, the new office has been completely transformed. Windows have been installed on the exterior of the building and old carpet and drywall was torn out, leaving exposed brick columns and concrete floors.
"What we do is build things," said Guy Suter, Barracuda's general manager. "We wanted to urbanize this space and promote creativity."
The space is still a work in progress, Suter said, and he's planning to meet with a graffiti artist this weekend to draw art on the white cinder block walls in the office. He said Barracuda intends to build out the space over time.
The basement level will have a lounge and recreation area for employees, with a pinball machine, pool table, video games and a kegerator. The goal is to give employees a place to unwind and hang out when they're not working. The company also participates in several rec leagues and out-of-office activities — such as attending University of Michigan football games.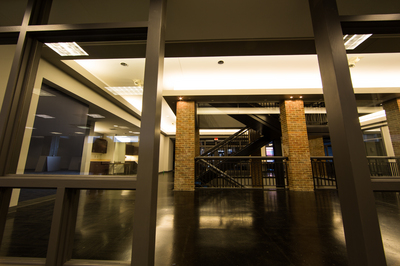 Photo by Stevie Blyler
"When people like each other, they work better together," Hankins explained.
The office has a large server room, video conference rooms, a "think tank" room with whiteboards, several lounge areas and a social media and video-shooting studio. There is wide-open office space, a few conference rooms and not a single private office, promoting collaboration amongst the employees.
"This space is energetic," Suter said. "The energy that comes from being downtown and around everything going on will really translate to our work…it's amplified."
Suter said the company does provide breakfast foods and snacks, but they're encouraging employees to go out for lunch to support downtown businesses. They're also looking forward to the redevelopment of the former Borders retail space along East Liberty Street.
Barracuda gives cash incentives to employees who take the bus, walk and bike to work, but they're also providing parking spaces in Ann Arbor's new underground parking garage.
Hankins said the company had to slow its hiring at the other space because there simply was no room. With the expanded office, he said three new employees plan to start Monday and the company is actively seeking additional hires in various departments. (Apply here)
Heiney said 300 to 400 employees could eventually be working out of the Maynard office, which he calls "way cooler" than California.
Lizzy Alfs is a business reporter for AnnArbor.com. Reach her at 734-623-2584 or email her at lizzyalfs@annarbor.com. Follow her on Twitter at http://twitter.com/lizzyalfs.