Posted on
Thu, Jul 12, 2012 : 9:15 a.m.
Barracuda Networks CEO resigns to 'pursue other avenues'
By Lizzy Alfs
This story has been updated.
Dean Drako, chief executive officer of Campbell, Calif.-based security firm Barracuda Networks, is resigning to "pursue other avenues," the company announced Thursday morning.
Drako — who co-founded the company in 2003 and has served as CEO for nine years — will continue to serve on the board of directors. His resignation is effective July 18, although his next steps are unclear.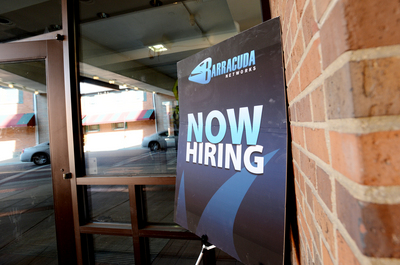 Melanie Maxwell | AnnArbor.com
Melanie Maxwell | AnnArbor.com
Barracuda is a privately owned firm that creates network security devices, provides email and web filtering products and phone system solutions, and monitors network attacks 24 hours a day, seven days a week. It has more than 1,000 employees globally and does not report sales figures.
It has an Ann Arbor office on Depot Street near downtown Ann Arbor where it employs 180 people.
According to a news release, Barracuda is conducting a search for a new CEO, and Board of Directors member Gordon Stitt, co-founder Michael Perone and CFO David Faugno are assuming the role on an interim basis under the newly formed Office of the CEO.
"We wish (Dean) well in his new venture, and are pleased he has agreed to remain on our board of directors as we continue to grow the company," Faugno said in a statement.
Drako, in a statement, said the company now has the "technology, user community, and growth ramp to be a thriving public company."
Fueled by growth in the information technology security industry, the company announced in June that it signed a lease for 45,000 square feet of office space in downtown Ann Arbor once occupied by bookstore chain Borders.
The space, located on Maynard Street behind the former Borders retail store, is located on three floors and partly underneath the public parking garage.
The deal was one of the largest commercial real estate leases in downtown Ann Arbor in recent years and could create up to 200 additional jobs if Barracuda meets its hiring goals.
Mary Catherine Petermann of Barracuda's press relations department said, via email, Drako's resignation will "absolutely not" affect the company's local expansion plans.
"We are very excited about our expansion as Ann Arbor has become a key center for us and continues to be so every day," she said. "In fact, we have started construction on the new space and are very much looking forward to moving in the new space."
Read more about Barracuda's local expansion plans.
Lizzy Alfs is a business reporter for AnnArbor.com. Reach her at 734-623-2584 or email her at lizzyalfs@annarbor.com. Follow her on Twitter at http://twitter.com/lizzyalfs.