Posted on
Tue, Oct 2, 2012 : 5:58 a.m.
Barracuda Networks ready to move downtown with tax breaks approved by Ann Arbor City Council
By Ryan J. Stanton
With tax breaks from the city of Ann Arbor and other incentives from the state of Michigan, Barracuda Networks is moving ahead with a multimillion-dollar expansion.
The Ann Arbor City Council voted 9-0 Monday night to approve a five-year abatement for Barracuda as it prepares to move into a portion of the former Borders building downtown.
Barracuda must hire 144 new employees by Dec. 31, 2014, as part of its expansion in downtown Ann Arbor or else it will have breached the terms of its agreement with the city.
Sean Heiney, Barracuda's vice president of strategic initiatives, said the company is hoping to be able to move downtown by November and confident it will meet that goal.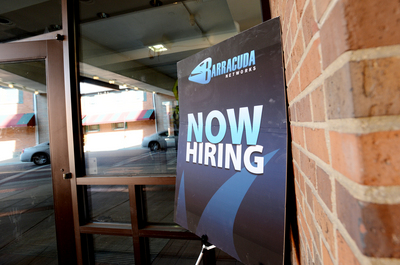 Melanie Maxwell | AnnArbor.com
"We're continuing to grow. We're continuing to hire in Ann Arbor. We have over 200 employees in our very cramped space on Depot Street," he said. "We're really excited to be downtown. It's consistent with our culture."
The Campbell, Calif.-based network security firm is receiving tax breaks on nearly $1.7 million worth of real property improvements and equipment, according to a memo from City Assessor David Petrak.
City officials estimate the savings to Barracuda will total about $61,184 over five years — a little less than the previously estimated $85,150. The Michigan Economic Development Corp. also is providing a $1.2 million incentive to assist with the company's relocation.
"I know there are many people in the community, myself among them, who over a period of about a year and a half have had meetings with folks over at Barracuda," said Mayor John Hieftje.
"I appreciate their resolve to stay in Ann Arbor, their desire to be in downtown," he said. "I think they really do add a lot of life there, and I look forward to having them here for a very long time."
In 2007, Heiney founded Barracuda's research and development center in Ann Arbor, which is charged with designing and developing new product lines.
He said Barracuda made a corporate decision to invest in Ann Arbor over Silicon Valley and other sites, so the commitments from the city and state reassure the company that was a wise move.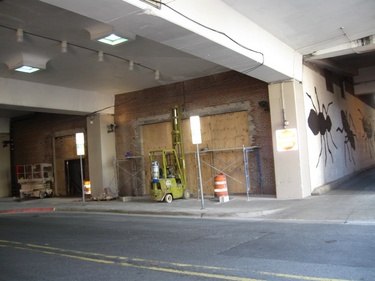 Photo from John Teeter
Barracuda is not taking over the retail portion of the former Borders building on Liberty Street. Rather, it's moving into the rear portion of the building that once housed Borders' headquarters at 317 Maynard St., partly underneath the Maynard parking garage.
Heiney said Barracuda has plans to improve the facade along Maynard Street, which he acknowledges is not one of downtown's most attractive areas.
"We intend to change that," he said. "We've been working with some great architects and designers on different proposals that will change that facade. I think the city and the Downtown Development Authority are excited to cooperate to make that area less of a cave and more of a lively place that's more reflective of downtown Ann Arbor."
Hieftje called the city's chief financial officer, Tom Crawford, to the podium to confirm the tax revenue the city will receive from Barracuda will exceed the amount of the abatement.
"When we do something like this, it doesn't cost the city anything," Hieftje said. "We're actually gaining from this action."
Council Member Jane Lumm said many cities grant abatements to retain and attract businesses, but because Ann Arbor is such an attractive place to do business, it rarely has to offer them.
"Occasionally, though, on a very selective basis, abatements are appropriate, and I'm convinced that is the case here with Barracuda," she said.
Just before the council approved the abatement Monday night, Heiney remarked that "Ann Arbor is a cornerstone of where we're going to continue to expand corporately."
"We're excited to get downtown and maintain the culture we've established and continue to hire software development engineers and engineers who support our products," he said. "These are all great-paying jobs that I believe will be a positive impact on the downtown community."
Watch a video of Heiney talking about Barracuda and Ann Arbor:
Ryan J. Stanton covers government and politics for AnnArbor.com. Reach him at ryanstanton@annarbor.com or 734-623-2529. You also can follow him on Twitter or subscribe to AnnArbor.com's email newsletters.