Posted on
Wed, Oct 6, 2010 : 3:54 p.m.
HandyLab closing Pittsfield Township office after $275M acquisition in 2009
By Nathan Bomey
(Note: This story has been updated several times with additional information and interviews.)

Becton, Dickinson and Co., a New Jersey-based global medical devices manufacturer, is closing its Pittsfield Township office after paying $275 million last year for the University of Michigan spinoff firm HandyLab, a spokeswoman confirmed this afternoon.
BD plans to shutter the HandyLab office by July 2011 and consolidate manufacturing of HandyLab's rapid detection infection device at a facility in Maryland, BD spokeswoman Colleen White said.
The future of the company's 50 local employees is unclear, though BD won't have employees in this area.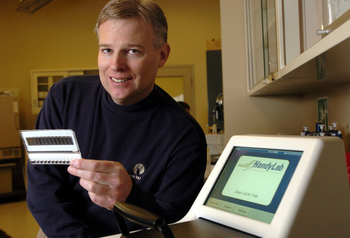 File photo | AnnArbor.com
"There will be an impact," White said, declining to offer specifics about whether they would be offered severance packages or buyouts. "Basically it's a difficult but necessary business decision, and there are significant expenses associated with maintaining a separate manufacturing facility."
The company still considers HandyLab's technology very promising, White said.

HandyLab was held up as an example of the momentum of the Ann Arbor region's technology community, and its closure is an economic and emotional blow.

The Michigan Economic Development Corp., which gave a $672,000 tax credit to HandyLab in August 2007 on a promise to add 56 jobs and invest $3 million over several years, called the company a Michigan "success story."

The company's exodus from Michigan is also sure to turn into an issue in Michigan's gubernatorial campaign.

GOP candidate and Ann Arbor venture capitalist Rick Snyder was chairman of HandyLab when the company was sold to BD, though he left the company after its sale. On his campaign website, Snyder lists HandyLab as an example of how he's a "job creator."
"The thing that shocked Rick the most was, had he still been an owner of this company, the company would still be here," Snyder campaign spokesman Bill Nowling said. "That said, this illustrates just how tough the economy is here in Michigan. We're making it easy for businesses in other states to argue that the businesses should go elsewhere, and we need to change that."
Cullen Schwarz, a spokesman for Democratic gubernatorial candidate Virg Bernero, suggested that HandyLab's exodus should not come as a surprise.

"Snyder's whole campaign is based on the fact that he's a business man, but his businesses end up eliminating jobs, not creating them," Schwarz said in an e-mail. "He brags about Gateway and HandyLab, but each ended up laying people off while making him rich. Somehow Mr. Snyder always manages to make himself money while leaving laid off and outsourced workers in his wake."
HandyLab has two years left on a lease for 22,000 square feet at a facility at 5230 S. State St. The company had added 4,500 square feet of space just seven months before its sale in late 2009.
BD's departure is catching the Ann Arbor business community off guard.
"It's an unfortunate and disappointing turn of events," said Stephen Rapundalo, executive director of MichBio, the state's life sciences association, and an Ann Arbor City Council member. "I recognize that all companies need to make decisions that are in their own best corporate interests. But clearly there was a good set of expert talent here and certainly I think the atmosphere for expansion and building the franchise here further was quite high."
Former HandyLab CEO Jeff Williams, who built HandyLab into the company it became and left to become CEO of Scio Township-based Accuri Cytometers in January, said he hadn't heard anything.
"Last I heard everything was going well, they were adding people and everything was going great," Williams said. "They have to do what they think is right for their business. They own the business, they bought it, and they the make the decision that's appropriate for their shareholders. That's part of capitalism.

"I hope that the employees of HandyLab go on to start the next tech company in Ann Arbor. That's how we grow a technology (industry)."

The company's sale was a big win for the Michigan venture capital community. Ann Arbor VC firms EDF Ventures, Arboretum Ventures, the student-run Wolverine Venture Fund and Ardesta, which Snyder co-founded, financed the company before outside investors came along.
The sale of Ann Arbor startup companies to large outside corporations has had an uneven effect on the community over the years.

The community benefits when an outside company acquires a local startup and decides to invest in its growth. That's what happened when U-M startup HealthMedia, another one of Snyder's investments, was sold to Johnson & Johnson in 2008.

But sometimes outside corporations buy up startups and consolidate jobs and offices elsewhere. That's what's happening here.
BD (NYSE: BDX) has some 29,000 full-time employees and annual revenue of $7.54 billion, according to Yahoo! Finance.
Calls placed this afternoon to HandyLab's offices and its co-founder, Kaylan Handique, were not immediately returned.
Rapundalo said he was hopeful that the Ann Arbor region would "retain the talent and have them end up at other area companies."

Contact AnnArbor.com's Nathan Bomey at (734) 623-2587 or nathanbomey@annarbor.com. You can also follow him on Twitter or subscribe to AnnArbor.com's newsletters.