Posted on
Mon, Jan 11, 2010 : 4:11 p.m.
Bennigan's near Briarwood Mall in Ann Arbor to close Jan. 16; Red Robin moving in
By Paula Gardner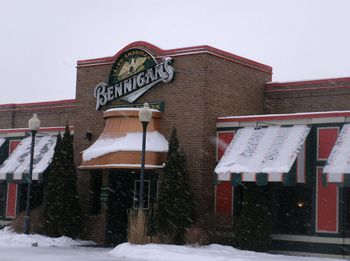 Paula Gardner | AnnArbor.com
The Bennigan's in Ann Arbor will close Jan. 16 after 28 years in its location on the eastern edge of Briarwood Mall just north of I-94.
The restaurant - part of a Michigan-based ownership group - lost its lease after the national franchise filed for bankruptcy.
"We're sad to be leaving," said Rich Boyce, director of restaurant operations for the Mt. Pleasant-based LaBelle Management. "It's been a good location there for us for years and years."
Boyce said sales at the bar and restaurant remained strong, with 2009 totals outpacing 2008.
"We were a profitable restaurant," Boyce said.
But a pending hike in the rental rate prohibited the company from continuing to operate in the location, he said. The restaurant will vacate the building by the end of January.
Boyce identified Red Robin as the next tenant that will move in.
Bennigan's has been in the 7,000-square-foot location for 28 years. LaBelle Management owned it for the past 10 years, buying it from the parent company.
But with the Bennigan's bankruptcy filing in July 2008, the lease for the building - held by the national company - was nullified. The building then reverted to the property owner.
The owner - Simon Property Group, which also owns and operates nearby Briarwood Mall - wanted to raise the rental rate, Boyce said.
"We tried working things out with the mall," he said. "But we weren't able to pay what the mall wanted."
Boyce wouldn't disclose the new asking rental rate, but real estate experts said it was likely in the $25 to $30 per square foot range. In comparison, the former Zanzibar space on South State near the University of Michigan campus was listed for $40 per square foot in mid-2009 and the former Ritz Camera building a block south of Zanzibar is listed for $35 per square foot.
Employees were notified in the fall that negotiations for Bennigan's to stay in the building weren't fruitful, Boyce said.
"We didn't feel that it would be right to keep it from them," Boyce said.
That disclosure represents a risk not often taken in the restaurant industry, Boyce said, but "many stuck with us to the end."
About 42 remained with the restaurant through this month, he said, even as many employees found other jobs.
The company considered relocating, Boyce said, "But we really couldn't find anything that we thought would work.
"... It's hard when you have the best location in the market."
The location is home to other chain restaurants, including Macaroni Grill, Max & Erma's, Olive Garden and Damon's. Independent restaurants in the vicinity include Mediterrano and El Camino Real.
LaBelle Management operates 10 Bennigan's in Michigan - the closest to Ann Arbor are in Plymouth and Howell - among the 30 restaurants it owns.
The Bennigan's Web site lists seven sites "coming soon," including three in Florida. It also lists 43 active locations in the U.S.
Neither Red Robin nor Briarwood Mall officials were available this afternoon for comment.
Meanwhile, an auction will be held at 11 a.m. Jan. 21 at the restaurant to dispose of the Bennigan's furnishings and equipment. It will be run by Ann Arbor-based Braun and Helmer Auction Service.
And Bennigan's staff and customers are preparing for their farewells, Boyce said. 
"We've been encouraging customers to come in and say good-bye," he said. "... We're going to miss them."
For more information on Bennigan's and Red Robin, visit AnnArbor.com's restaurant guide. 
Paula Gardner is Business Director at AnnArbor.com. She can be contacted by email or follow her on Twitter.