Posted on
Sun, Jun 20, 2010 : 5:14 a.m.
Ann Arbor's Big George's launches solar panel line
By Laura Blodgett
Big George's Home Appliance Mart is now carrying solar panels at their Ann Arbor store. They offer a complete system package from start to finish including installation.
Lance Murrell, the salesman launching the solar panel line, says Big George's, 2023 W. Stadium, is entering that market in an effort to expand into other select categories.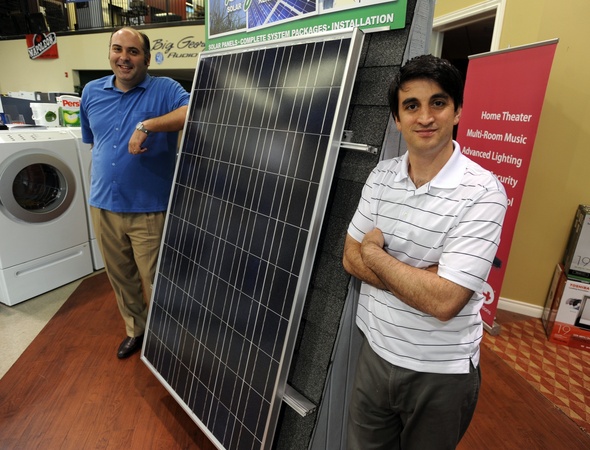 Lon Horwedel | AnnArbor.com
"With the economy being so tough, our market share is getting smaller in electronics and other areas, and we need to expand to get ahead of the game."
Murrell explains that solar panels are a good fit for the store because of its current staff.
According to The Wealthy Review, the worldwide solar panel market is expected to grow from $19.6 billion in 2009, to $125.5 billion by 2016."
The solar product line complements the local appliance dealer's other services, Murrell said.
"We already have staff on board who can install the solar panels because of their experience installing the full range of appliances we sell as well as fireplaces and home theaters," he said.
Store management felt that solar panels were a natural extension of its appliance business, including the wood burning and gas inserts for fireplaces they sell which are EPA certified and also eligible for tax rebates.
Solar panels are installed on a roof and tied into the electrical grid through the local electric company. When sunlight hits the solar panel cells, a direct current flows from the panel to an inverter, which converts to the AC current that flows throughout the house. The electric company buys whatever energy the solar panels are generating by crediting it to the homeowner's energy bill.
"If you had a system that would do 3,500 watts, you would save approximately $75 a month on your bill," explains Murrell. "A larger system like 10,000 watts saves up to $300 a month."
The price of the product and installation is eligible for a 30 percent federal tax credit as well as state solar rebates.
No sales have been made yet, but the store is hoping to sell 20-30 systems in the first year. Packages range from $4,000-$10,000 including installation.
Big George's is the authorized dealer for several solar panel brands including Mitsubishi, Sanyo, Sharp and Bosch. Murrell is not aware of any other local dealers selling the systems.
Big George's also will be carrying the GE tankless water heater shortly, as another in its line of energy-efficient products.
Laura Blodgett is a freelance writer for Ann Arbor Business Review.