Posted on
Wed, Jan 5, 2011 : 2:31 p.m.
Biggby Coffee expanding into Saline area with new store near State and Michigan
By Paula Gardner
A local Biggby Coffee franchisee plans to open her third outlet — and the county's fifth — by spring in Pittsfield Township.
The new store will be located at 6961 E. Michigan Ave. in the shopping center anchored by O'Reilly Auto Parts, just south of the Walmart at State and Michigan.
Melanie Maxwell | AnnArbor.com
The store is a former coffee shop and has a drive-through window, so the size and format fits Biggby, said franchise owner
Jeannine Mickeleit.
"I drove by and I liked it, and I decided to go for another (shop)," she said.
Some work will be done on the interior to give it the standard Biggby appearance, she said.
The construction and other permitting from the county and township means the store likely won't open until March at the earliest, Mickeleit said.
"I'm waiting for the plans to come back this week," she added.
Mickeleit also owns the locations on Plymouth Road and West Stadium, where she converted the former Portofino Coffee Shop space into her second store in early 2010.
This transition "is kind of similar to Portofino" Mickeleit said, in terms of both timing and customizing former coffee shop space.
The location is marketed as "high-traffic" with daily vehicle counts of 28,819 per day, according to Bruce Morrison of Signature Associates in Southfield.
Morrison has the mall listed for sale, with the 10,169-square-foot investment property priced at $3.415 million. The owner is KJD Pittsfield LLC, based in Farmington Hills, who bought the property in 2007 for $1.2 million.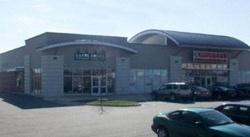 From Loopnet
The economy and lack of lending stalled any potential deals, Morrison said, but that could change in 2011. Adding to the attraction for an investor is the Biggby lease for the 2,187-square-foot store, where the asking rate was $20 per square foot.
"Now that it's full, there are a couple of people looking at it," Morrison said.
As for Mickeliet, she's just concentrating on preparing for her opening. She'll end up hiring about 15 people to run the new store, and she plans to start that process soon, since she can train them in her existing stores.
She's also expecting this location — with her first drive-through — to be high-volume.
And while the Walmart is a big draw across the street, that wasn't her primary driver for the location.
"It's nice that it's there, but I just really liked the location," she said. "It's a very busy road, and there's really not a coffee shop like Biggby in Saline."
Biggby, based in East Lansing, has 124 stores either open or under contract in six states. The most recent store opening was in Hartland, according to its website.
Paula Gardner is Business News Director of AnnArbor.com. Contact her at 734-623-2586 or by email. Sign up for the weekly Business Review newsletter, distributed every Thursday, here.