Posted on
Sat, Mar 9, 2013 : 5:58 a.m.
Ann Arbor's Bikram Yoga expanding to meet growing needs in Washtenaw Avenue corridor
By Angela Smith
Arbor Hills Crossing is slowly beginning to announce tenants for the new shopping and dining area that is slated to open in August of this year.
And that makes existing business owners in the area of Washtenaw Avenue and Platt Road very happy.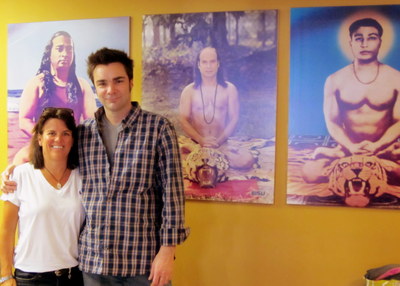 Angela Smith | For AnnArbor.com
"With all the new stores and restaurants coming in across the street from us, we could not be happier at our location," says
Joe Lovill,
owner of
Bikram Yoga
in the
Huron Village Plaza.
Bikram Yoga came to Ann Arbor 11 years ago when the idea of doing hot yoga sounded extreme. Lovill knew friends who were opening a studio in Plymouth. He tried to convince them to open in Ann Arbor, but to no avail. "I realized it would be a positive, healthy way to make a living."
Lovill partnered with longtime friend Michelle Pischea as investor and manager. Since then the trend has flourished; there is an abundance of hotroom yoga classes in the Ann Arbor area. Lovill says the movement is growing, and that plans for an expansion of his Bikram yoga studio will commence this week.
The studio room, where yoga is done for 90-minute sessions in 104-degree heat, is getting upgrades such as infrared heating and flotex carpeting. An additional 1,000 square feet of suite space also is being added to their lease. Rather than add additional studio rooms, the space will be used to expand the community areas of the business, giving it what Pischea likes to call "a hip-industrial-zen vibe."
"We have made several changes within our studio and we are also adding much larger locker rooms with additional showers and an entire new reception/lounge area."
Lovill and Pischea considered client feedback in designing those areas. They're increasing the number of showers and vanity areas in the locker rooms, adding a Wi-Fi equipped lounge, and expanding their retail area to offer more yoga-minded merchandise to their clients.
Lovill plans to offer brands like Mac and Yoga Bella, but does not feel that the retail area will be in competition with some of the rumored brands to be moving in to Arbor Hills Crossing.
Real estate sources have said stores like Lululemon Athletica and Anthropologie — which is owned by Urban Outfitters Inc. — have been looking for space in the Ann Arbor market.
"It will really offer more visibility for Bikram."
Lovill and Pishcea have extended their lease for an additional 10 years.
"We feel as though we have the perfect spot," explains Lovill, citing Whole Foods, Barnes and Noble and the bus route as being other contributors to the business' success.
Michigan's rocky economy has done nothing to impede business in the past 11 years, Lovill said. In fact, Michigan has seven Bikram franchises and continues to grow. "People need to stay strong in difficult times, and in that respect it's been helpful."
The construction will not impede the class schedule and is timetabled for completion in six to eight weeks. Bikram Yoga offers classes seven days a week and a variety of membership packages. More information can be found on the Bikram website.
Angela Smith is a freelance reporter for AnnArbor.com.