Bill Crispin set to expand Chevrolet dealership with land deal in Pittsfield Township
Posted on Sun, Sep 9, 2012 : 5:56 a.m.
Ben Freed | AnnArbor.com

Bill Crispin has wanted to expand his Chevrolet dealership in Pittsfield Township just east of Saline for a number of years.

In late July, he purchased a 4.9-acre plot of land just east of his dealership that had been vacant since it was bought by Trimark Development, LLC in April 2006.

"I wanted to buy it five years ago, but they turned me down in the price," Crispin said.

It would be difficult for Crispin to complain about the price after this purchase. He acquired the former Saline Equipment property for $580,000, less than two-thirds the listed price of $890,000. Trimark, the Southfield based developer who unloaded the undeveloped property through a sale managed by Flagstaff bank, filed for bankruptcy less than two weeks later.

Crispin said the property was a necessary addition because business has continued to expand since he first opened the dealership in 1978.

"When we first got here there was not even a traffic light, it was basically a big field," he said.

"We've expanded our original site a couple of times, and it was either add to that again or get this property down the street. If it was 2 miles or more away I wouldn't have done it, but I can literally look out the window down the street and see the new spot."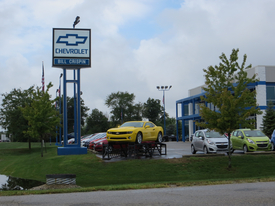 Ben Freed | AnnArbor.com
It's not just increased car sales that are driving the decision. Crispin plans to have a building on the new lot dedicated to outfitting law enforcement and emergency vehicles. Crispin is a former police officer and said the area does not currently have a location for the outfitting of police cars, firetrucks, or ambulances. Crispin Chevrolet recently hosted an Eastern Michigan Camaro Club convention where it
donated $4,000 to MICOPS
, an organization that supports families of police who have died in the line of duty.
The property currently contains a number of run-down buildings that Crispin intends to re-do entirely. He hopes to have the new locations ready to open by the end of next spring.
"There's a lot of work to do there, a lot of landscaping, lot of blacktop work," he said. "I've got to re-do that main building, that will be totally re-done. It's basically like building a whole new location."
Crispin got a head start on some of the work even before he purchased the property. He was so tired of looking at the distressed property that he decided to mow the grass and trim some of the trees himself.
"It was just an eye-sore," he said.
Crispin purchased the property through what Realtor Jim Porth explained was a "short-sale," a deal made to keep the property from going into foreclosure. Short sales are made when a distressed owner is unable to find a buyer who will pay the equivalent of the mortgage on the property. The bank holding the mortgage can sign off on a deal for the lower amount, taking responsibility for the "short" between the amount the property is worth and the amount on the mortgage.