Posted on
Fri, Jul 30, 2010 : 4:55 p.m.
Billionaire benefactor of University of Michigan faces SEC securities fraud charges
By Nathan Bomey
A billionaire who gave $10 million to the University of Michigan's business school in the late 1990s donated cash he stockpiled by engaging in securities fraud and insider trading, the U.S. Securities and Exchange Commission is alleging.
Samuel Wyly and his brother Charles Wyly face SEC civil charges in what "could result in one of the biggest judgments ever in a securities fraud case," the New York Times reported. Wyly's gift financed half of the cost of the U-M building that bears his name on the corner of Hill Street and East University Avenue on U-M's Central Campus.
SEC investigators accused the brothers of receiving more than $550 million in "undisclosed gains" and more than $31.7 million from insider trading at various companies, including Sterling Software, which the brothers sold for $4 billion. (Read the entire SEC complaint here.)

"Sam Wyly and Charles Wyly engaged in a 13-year fraudulent scheme to hold and trade tens of millions of securities of public companies while they were members of the boards of directors of those companies, without disclosing their ownership and their trading of those securities," the SEC alleged.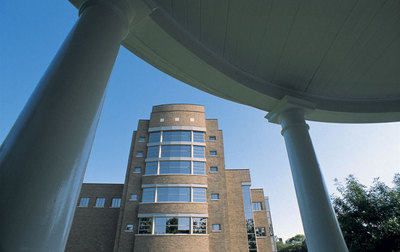 Photo courtesy of University of Michigan
"The Wylys' scheme defrauded the investing public by materially misrepresenting the Wylys' ownership and trading of the securities at issue while enabling the Wylys to realize hundreds of millions of dollars of unlawful gain and other material benefits in violation of the federal securities laws governing the ownership and trading ofsecurities by corporate insiders."

The announcement details civil charges, but the brothers are also being investigated for possible criminal violations as well, the Times reported.
Their lawyer, William A. Brewer III, a partner at the Dallas law firm of Bickel & Brewer, denied the charges.
"They have never been given any reason to believe the financial transactions in question were anything other than legal and fully appropriate," he told the Times.
The charges come 10 years after the university opened Sam Wyly Hall, which cost $20 million and was built to house Business School functions such as the executive education department and the William Davidson Institute. Wyly earned his master's in business administration in 1957.
"My mother always told me that when someone does something for you, you say 'thank you.' Thank you, Michigan," Sam Wyly said at the time, according to U-M's University Record publication.
A spokesman for the U-M Business School referred questions to the university's chief spokeswoman, Kelly Cunningham.
"Mr. Wyly has been a long time friend and supporter of the university," Cunningham said in e-mailed response to a telephone interview request. "We're sorry to hear he is facing these difficult circumstances."

The gift, at the time one of the two largest donations in the history of the Business School, was first announced in January 1997.
"This is a tremendously generous gift and it comes to us at an important moment in the School's history," Business School Dean B. Joseph White said in a statement announcing the gift. "It's a gift that will truly make a difference and I'm deeply grateful to Sam for the commitment and for helping fuel even greater success for the School."
According to the SEC complaint:
The Wylys used offshore cash to cover charitable commitments each had made. In 1996, for example, Sam Wyly pledged to donate $10 million to his business school alma mater over five years in connection with the construction of a new building on campus, which was subsequently built and named for him. Although Sam Wyly made the initial $2 million portion of this donation from domestic sources, he caused the remaining $8 million to be paid from the Offshore System.

Lee Bollinger, U-M's president when the gift was made, said at the time: "This means an enormous amount to the University. To have this space available means that we will have the finest possible areas for our faculty to be able to do research and teach."
Contact AnnArbor.com's Nathan Bomey at (734) 623-2587 or nathanbomey@annarbor.com. You can also follow him on Twitter or subscribe to AnnArbor.com's newsletters.