Posted on
Fri, May 25, 2012 : 5:59 a.m.
Bill's Beer Garden: City approves liquor license transfer as construction continues
By Lizzy Alfs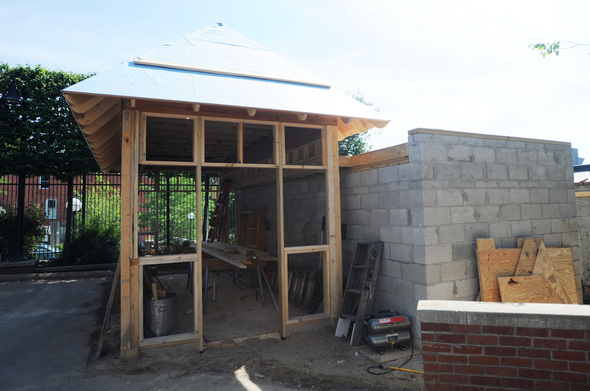 Melanie Maxwell | AnnArbor.com
Mark Hodesh's vision to create an outdoor gathering spot in downtown Ann Arbor where people come to eat, drink, socialize and listen to music is moving closer to becoming a reality.
Construction on Bill's Beer Garden - inspired by the community gathering spots Hodesh saw in Brooklyn, N.Y. -- is underway in a portion of the parking lot next to his Downtown Home & Garden store on the west side of downtown.
Ann Arbor's City Council's Liquor License Review Committee this past Monday approved a request to transfer ownership and location of an escrowed 2011 Class C Liquor License from Pizza Hut of America, Inc. to Bill's Beer Garden, LLC. The request still needs approval from the state.
The committee also approved a dance-entertainment permit, an outdoor service area and a new Specially Designated Merchant license.
Construction on the beer garden is moving along quickly, with the hopes of opening it in mid-July, Hodesh said.
Jensen & Sons, Chelsea Plumbing, Norris Electric Co. and Van Ingen Construction are working on the project.
"It's going extremely smoothly," Hodesh said. "It's the same construction crew that has built everything for me. It's a well-oiled machine by now."
Hodesh, along with his long-time business associate, Bill Zolkowski, are opening Bill's Beer Garden: a 422-square-foot storage and restroom building, two open air-pavilions with seating, and an enclosed pavilion for the bar on a portion of the existing Downtown Home & Garden parking lot, located at the northwest corner of Liberty and Ashley streets.
There will be a corridor connecting Bill's Beer Garden with Mark's Carts, and customers will be able to bring food from the courtyard to the beer garden.
The garden will serve Michigan craft beer and wine and host live music and other entertainment events. It will be open from 5 p.m. to 11 p.m. while the weather is warm, so people can still park in the Downtown Home & Garden parking lot during the day.
Hodesh's hope, he said, is for Bill's Beer Garden to become a community gathering spot, adding to the recent influx of activity on the blocks just west of Main Street.
"The carts are extremely busy, the store is busy, they're building (Ann Arbor City Apartments) right behind us and we're building the garden; the whole block is just really active," he said.
Lizzy Alfs is a business reporter for AnnArbor.com. Reach her at 734-623-2584 or email her at lizzyalfs@annarbor.com. Follow her on Twitter at http://twitter.com/lizzyalfs.