Posted on
Tue, Jun 29, 2010 : 5:58 a.m.
Biwako Sushi expanding to Ann Arbor location in Woodland Plaza
By Brian Vernellis
The owner of a Saline sushi restaurant has his ambitions set on expanding into the Ann Arbor market.
Andy Kwon, owner of Biwako Sushi at 1355 E. Michigan Ave. in Saline, is preparing to open another location in Woodland Plaza on South Main Street, a plaza anchored by Busch's.
Kwon is renovating for his new Biwako Sushi in the space formerly occupied by Quizno's, which closed its doors several weeks ago.
"We've been in Saline for four years, and I've been looking for a location in Ann Arbor," Kwon said. "I was looking at this location a couple of months ago.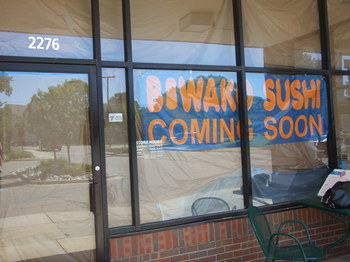 Brian Vernellis | AnnArbor.com
"It will be pretty much the same concepts," he said. "It's not a super huge restaurant, but we're very friendly, and we know our customers."
Biwako Sushi's newest location is expected to be ready for business by mid-August.
Kwon said he signed a five-year lease for the 1,800-square-foot space. He plans on hiring 8-10 staff for the restaurant.
"It seems like a timely, good idea for that trade area," said principal Tom Goldberg of Bloomfield Hills-based ATMF Reality, owers of Woodland Plaza, Cranbrook Village and Waters Place.
"We were in the process of finding someone with a different offering and that has a high popularity index in Ann Arbor."
Goldberg doesn't foresee other property changes to Woodland Plaza anchored by Busch's.
"You never know in today's world though," Goldberg said. "It's uncertain times, but there's (no changes) that I'm aware of. Things seem to be fairly stable, but these are very uncertain times in the business world."