Posted on
Tue, Sep 25, 2012 : 5:59 a.m.
Blighted gas station on Ann Arbor's Detroit Street could be replaced with 3-story development
By Lizzy Alfs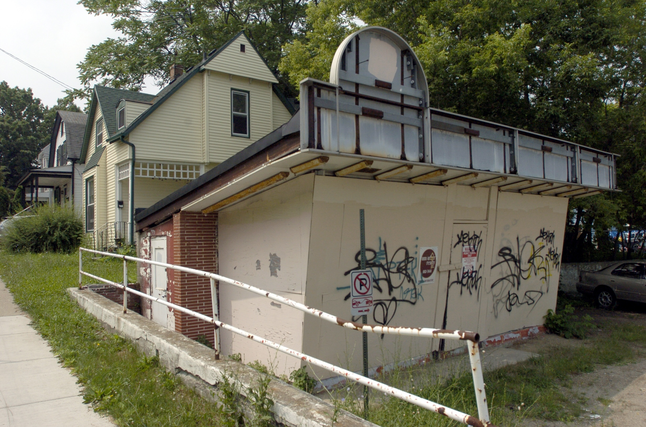 Ann Arbor News
An Ann Arbor developer is targeting a long-vacant, graffiti-covered building on Detroit Street in Ann Arbor for his next project.
Dan Williams of Maven Development submitted an application to Ann Arbor's Historic District Commission to demolish the 400-square-foot blighted gas station at 544 Detroit St. and construct a new three-story building.
The flatiron-style building would have office space and covered parking on the first-floor with condominiums on the second and third floors. Each story would have steel balconies featuring metal work by a local artist, Williams said.
The building would total about 4,000 square feet and the two condominiums would each be 1,670 square feet, according to the plans.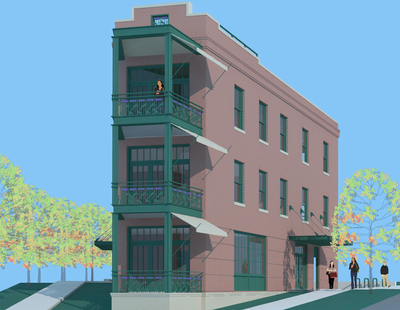 Rendering by Marc Rueter
"The most important thing is the uniqueness of the building," Williams said. "There aren't really that many flatiron buildings around; there are only a few in Ann Arbor…the lot really dictates this kind of building because it's a triangle."
For years, the site — a former Clark gas station — has been deteriorating. The gas station has been boarded up since it closed more than 30 years ago. Williams currently is under contract to purchase the property from Jack Epstein, a former Ann Arbor resident who now lives in Maryland.
The property's assessed value is $50,700 for the 2012 tax year, and it was listed for sale with Doug Smith of Swisher Commercial for $149,500.
Because the property is located in the Old Fourth Ward Historic District, the plans need to be reviewed by Ann Arbor's Historic District Commission before moving to Planning Commission and City Council.
City Planner Jill Thacher said she doesn't anticipate any problems with demolishing the blighted building since it's non-contributing and was constructed after the period of significance for the Old Fourth Ward.
Williams — who also developed a student housing project at 133 Hill St. — said the "prominent corner" near Division and Detroit streets was an attractive location for a development because of the proximity to downtown and the Huron River.
"We feel this is a good complement to Kerrytown and we're cleaning blight," he said.
Smith, the listing broker, added: "I'm sure the neighbors are going to be thrilled to have that site cleaned up and have something happen there."
Williams already has met with neighborhood associations and residents to talk about the project and get feedback.
Ray Detter, chairman of the Downtown Area Citizens Advisory Council, said neighbors were mostly receptive to the plans during those meetings.
"These people have come forward with a plan that we think is good," he said. "Basically, the neighborhood liked the fact that there was going to be a building there that included residential and office and parking on the site."
He also noted the simple design and said it would fit with the character of Detroit Street.
The architect for the project is Marc Rueter of Ann Arbor-based Rueter Associates Architects.
Lizzy Alfs is a business reporter for AnnArbor.com. Reach her at 734-623-2584 or email her at lizzyalfs@annarbor.com. Follow her on Twitter at http://twitter.com/lizzyalfs.