Posted on
Sun, Jul 7, 2013 : 5:58 a.m.
Fast-growing Blu Homes moves Ann Arbor design hub to larger space on North Main Street
By Janet Miller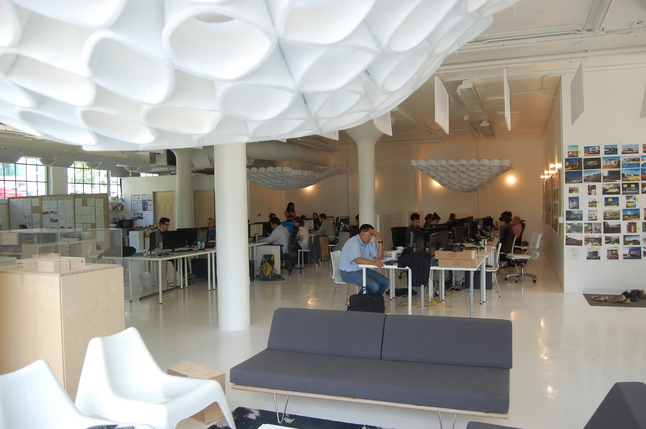 Janet Miller | For AnnArbor.com
With a growing design hub located in Ann Arbor,
Blu Homes, Inc.
, is much more concerned about staying "green" than any other color.
While Blu Homes — builders of eco-friendly, prefab homes — is anchored on the East and West coasts, the heart of its design operation is located just outside downtown Ann Arbor, with new offices in the Riverfront Buildings on North Main Street before the entrance to M-14
The move in May to the 3,500-square-foot space from a tiny office on Fourth Avenue near Kerrytown signals the rapid growth the company has seen since it set up shop less than two years ago.
But this wasn't always the original plan — Ann Arbor became the design base by accident.
Karl Daubmann, associate professor of Architecture at the Taubman College of Architecture and Urban Planning at the University of Michigan, was teaching classes in design, technology and construction. While the auto and airline industries were using computer modeling in design, most architecture schools were not. Except Daubmann. The university began providing a pipeline to Blu Homes, established in 2008, of young architects familiar with the computer modeling that set Blu Homes apart from other companies and made it different.
Janet Miller | For AnnArbor.com
When it began looking for a new creative director two years ago, Blu Homes assumed it would work out of the Boston-area office, Daubmann said. But with 90 percent of its new architects coming from U-M, Blu Homes quickly warmed to the idea of setting up a design outpost in Ann Arbor and hired Daubmann to be creative director.
The Ann Arbor office has since grown to a professional staff of 36, with more new hires on the horizon, Daubmann said. There also are another 23 architects spread throughout the Boston and San Francisco offices.
"While our office has the feel of an architecture firm, the company is more of a tech startup," Daubmann said.
Blu Homes has grown at lightning speed, despite an economy that hasn't been kind to new home-starts. It built close to 100 homes between 2008 and 2012, but is on track to build another 100 to 120 homes this year, said Dana Smith, company communications director. In late June, the company secured $65 million in investments which will allow them to build 15 to 20 display houses in key marketing areas, including Silicon Valley, Seattle and New York. None are currently slated for Ann Arbor, but one will likely be in the Midwest, Smith said.
When it was launched in Massachusetts and California, Blu Homes wanted to turn home building on its head, Daubmann said.
"The way homes are built in the United States hasn't changed in more than 100 years. Some of the materials are unhealthy, final costs aren't known until the project is finished and it can be a difficult time for homebuyers," Daubmann said.
Blu Homes taps into technology and allows clients to custom design their own homes on the company's website. They select from one of eight styles, referred to as "products," decide the layout and select the finishes, fixtures, exterior and more. The 3-D software and Google Earth allow clients to see how their new home will look on their land from every angle.
Blu Homes products range from studios and cottages to four-bedroom homes. The Ann Arbor office is working on two new designs, including a narrow style, good for small infill lots in existing neighborhoods, Daubmann said, along with designs for garages.
Blu Homes also aims to be eco-friendly. The company takes into consideration the way they are oriented on-site, the materials used, including bamboo and reclaimed wood floors, as well as the use of low-VOC paints to cut down on toxins released, Daubmann said.
With the software, the final cost also is able to be calculated before the first nail is hammered, he said.
Blu Homes are constructed in a 250,000-square-foot former submarine repair shop on Mare Island, 35 miles northeast of San Francisco. Their steel structure allows them to be built, complete with cabinetry, lighting and appliances, then folded, and shipped across country by truck. It takes two days to unfold and make the house water-tight, Daubmann said, and another one to two months to completely finish.
While the majority of the design operation is located in Michigan, it's not because the homes have a foothold here. Michigan's first Blu Home will be completed in the Upper Peninsula next year. The majority of Blu Homes are located on the East and West coasts, including California, Maine, Massachusetts, New York and New Hampshire.
Cost is slightly higher than traditional construction, Daubmann said, but as the technology evolves and efficiencies are found, prices should drop. That's one of the reason Blu Homes are more popular on the coasts, where higher housing costs are expected. Costs range from $130,000 for a small home that can be used as an addition or cottage to $590,000. Costs do not include land, the foundation, permits or landscaping.
Like the Blu Homes themselves, the new Ann Arbor offices are open, with lots of light and an uncluttered simplicity. Everything in the offices — excluding the black sofas — is white, including the concrete floors (no shoes allowed), tables, chairs, ceilings, ductwork, shades and storage.
Janet Miller is a freelance reporter for AnnArbor.com. Contact the news desk at news@annarbor.com or 734-623-2530.