Posted on
Fri, Jan 6, 2012 : 1:02 p.m.
Downtown Ann Arbor restaurant Blue Tractor to expand, Cafe Habana moving
By Lizzy Alfs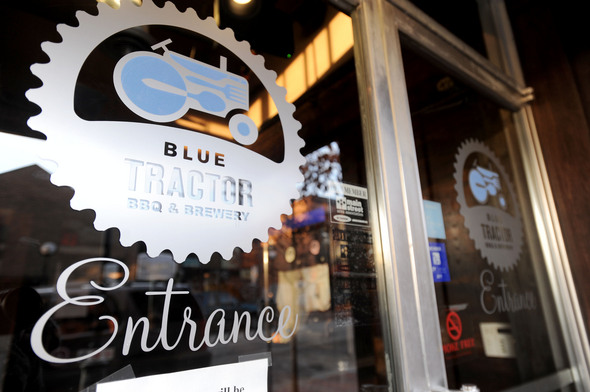 Angela Cesere | AnnArbor.com
Downtown Ann Arbor's
Blue Tractor
restaurant is expanding this month into its adjoining and sister restaurant,
Cafe Habana
, the owners confirmed this week.
As part of the expansion, the Cafe Habana restaurant will close on Sunday and reopen this summer in an undisclosed space in downtown Ann Arbor that is currently occupied by another restaurant.
Business partners Greg Lobdell and Jon Carlson said the expanded restaurants collectively would hire 80 to 100 new employees. They'll get enhanced menus, and Blue Tractor will start offering prepared take-out food.
Lobdell and Carlson, along with operating partner Dan Glazer and other investors, opened Cafe Habana in 2007 at 211 E. Washington St. A year later, they opened the Blue Tractor barbeque and brewery next door.
Other ventures they're involved with: Ann Arbor's Grizzly Peak and Jolly Pumpkin; Traverse City's Mission Table, North Peak Brewing Company, Kilkenny's Irish Pub, Blue Tractor, Jolly Pumpkin and Bastone Brewery; and Royal Oak's Vinotecca.
Angela Cesere | AnnArbor.com
Seating demand at Cafe Habana and Blue Tractor has grown considerably, Carlson said, with Blue Tractor sales up 19 percent in 2011.
"We just don't have enough seats," he said. "That was the main push for us to do it."
Blue Tractor will have room for an additional 100 customers, nearly doubling its capacity.
Since the restaurants are neighbors and share access to a basement bar, a pathway will connect the original space to the expansion.
During the month-long renovations, the Cafe Habana restaurant space will be transformed to look like Blue Tractor, with salvaged barn wood on the walls, a more open kitchen and a second smoker.
"We want to open up the kitchen and let the cooking experience and the smoked products be a little more out in the open for people," Carlson said.
He added: "We care so much about the way a place looks. If you're in a place that feels comfortable or authentic, then it changes your experience. The wood is part of the charm of that place."
They'll install a small retail and to-go counter, where people can come and grab things like ribs, brisket, sandwiches and veggie sides for carry out.
They've also traveled around the United States to get inspiration for an enhanced barbeque menu.
Lobdell said the new menu is influenced by "flavors from all over the world," including southern, Asian and Latin barbeque.
Both Blue Tractor and the downstairs Habana Cellar Lounge - complete with its popular salsa nights - will stay open during the renovations. The downstairs concept will remain until the new Cafe Habana opens in early summer. Then, the owners will launch a different concept in the basement lounge.
Lobdell and Carlson declined to reveal where Cafe Habana will move, saying they want to respect the current tenant. They plan to announce the new location within a few months.
But Carlson emphasized: "It won't be a cookie-cutter move like Cafe Habana just switched to a new location. It's going to be completely new. It's a way better space for salsa nights and will be unreal for dancing in general."
He continued, "We want to take the best of what we've done before and take a lot of new ideas to improve upon it to give people a new experience."
Lobdell and Carlson grew up in Traverse City and now live in Ann Arbor with their families.
"We love the Ann Arbor community, the people and the culture here," Lobdell said. "We're just huge, huge fans."
Carlson added: "It's everything you want in a big city, but it doesn't feel like a big city. Now that we have kids, we're never leaving. This is our hometown now."
Lizzy Alfs is a business reporter for AnnArbor.com. Reach her at 734-623-2584 or email her at lizzyalfs@annarbor.com. Follow her on Twitter at http://twitter.com/lizzyalfs.