Posted on
Fri, Dec 21, 2012 : 5:59 a.m.
Blue Wolf Grill brings fresh fare to fast-food row in Ypsilanti Township
By Tom Perkins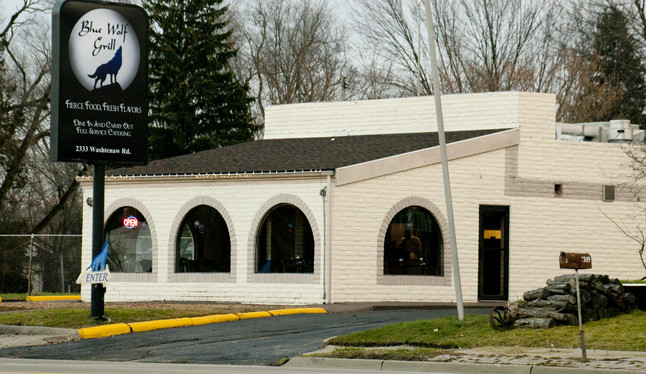 Tom Perkins | For AnnArbor.com
The new Blue Wolf Grill is offering diners a fresh option in the middle of a Washtenaw Avenue strip known for fast food and coney islands.
The restaurant, which opened Dec. 13, is focusing on locally sourced, fresh foods and has a menu designed by a well-established local chef. But the Blue Wolf's owners say they also intend to keep the prices reasonable.
"We're on a section of the road where there are a lot of fast food chains, diners and other chains, and we're really into fresh ingredients, local ingredients and we use local distributors," co-owner Charles Molina said of the location at 2333 Washtenaw Ave. in Ypsilanti Township. "We thought there is a need in the area for a more unique menu and higher quality food."
For example, Blue Wolf features a variety of Michigan ingredients in its Michigan salad. At $8, it comes with mixed greens, toasted walnuts, dried cherries and crumbled blue cheese. It's served with a raspberry vinaigrette.
The paninis are mostly $8, and the entrees range from $12 to $16. They include items like the apple-brined chicken, which is slow smoked and topped with Michigan cherry sauce.
The Blue Wolf buys its baked goods from the Knickerbocker Baking in Madison Heights, its produce from local distributors, and its meat from Mark's Quality Meats. The owners say they are working on establishing relationships with local farmers.
Molina said Blue Wolf's dining room provides an intimate setting, with soft yellow light instead of harsh neon.
"This is the first restaurant that we have done, so we want to keep it simple, keep it small," Molina said.
Molina co-owns Blue Wolf with his girlfriend, Cheri Jackson. In May 2010, the couple opened We Cater To U, a catering business located right across the street that operates under a similar philosophy. Eventually, We Cater To U will become part of Blue Wolf.
David Young, who was an executive chef for the Michigan League, joined Molina and Jackson in establishing Blue Wolf. The Michigan League provides high-end catering for the University of Michigan community, and Young is part of the creative force in drawing up the concept for the menu and the restaurant's approach to dining.
But can the restaurant survive long-term in a spot where the Al-Noor Middle Eastern restaurant and the Cosmic Garden vegetarian restaurant were unable to survive for more than a few years?
Molina believes so. He pointed out the restaurant's proximity to Washtenaw Community College, Eastern Michigan University and Saint Joseph Mercy Hospital, and said he believes there has been a rebound in the area east of U.S. 23 since the recession hit about five years ago.
"There are 36,000 cars that go past here on a daily basis," Molina said. "There are some great Ann Arbor restaurants right down the street, but there are a lot of people in Ypsilanti who appreciate fresh food, have a sophisticated palate, want something unique, something different and fresh. And that's an absence that we're filling in."
Together with We Cater To U, Molina and Jackson employ about 15 people regularly, and more than twice that number are kept on-call to help them cater larger events.