Posted on
Mon, Apr 23, 2012 : 2:50 p.m.
Bob Lutz: 'Tough, more authoritative approach' is critical in academics, business world
By Lizzy Alfs
Bob Lutz has a lesson for educators and business leaders: Tough love and discipline are necessary to both train America's youth and run a successful company.
That's the message the former vice chairman of global product development for General Motors delivered at a Washtenaw Economic Club luncheon Monday afternoon.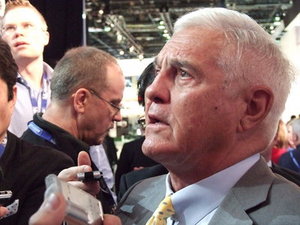 AnnArbor.com file photo
Lutz — who lives in the Ann Arbor area and recently wrote the book "Car Guys vs. Bean Counters: The Battle for the Soul of American Business" — outlined some of the issues with management styles in the United States.
"In the 1990s, consultants were telling us the authoritarian management style is wrong," Lutz explained. "They said we should have a friendly management style and conference rooms had signs saying, 'There's no such thing as a bad idea.'"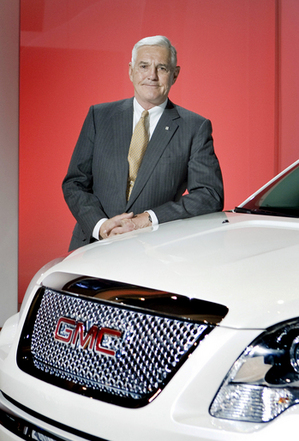 John F. Martin | General Motors
"This has become the way we manage in the U.S., with the hands-off CEO," he continued.
Lutz said this style of management, lacking in tension and conflict, rids of constructive dialogue. Lutz's message Monday reflects that of his book, which derides the incompetent managers who drove the U.S. auto industry into the ground.
"At (General Motors) people said failure was circumstantial, or, 'You did the best you could, it wasn't your fault,'" he said.
He continued: "The two most successful car companies in the world right now — Volkswagen's Audi…and Hyundai KIA — are run absolutely top down. Failure is not tolerated…If you screw up, you're out."
Lutz also credited the turnaround of Detroit's "Big Three" auto manufacturers partly to "much tougher" executives — Dan Akerson of GM, Alan Mulally of Ford and Sergio Marchionne of Chrysler.
"A tougher, more authoritative approach is being taken by all three," he said.
Aside from the automotive industry and business world, Lutz said this same lesson should be stressed in the education system, turning away from what he calls the "self-esteem movement."
"We trained a generation of young Americans that they get the gold star whether their stuff is any good or not," he said. "In doing that, we drastically lowered the standards and frankly, we're turning out a bunch of functional illiterates."
He said young people should be trained with "real world, necessary skills," such as automotive maintenance and automotive repair, rather than earning degrees in the liberal arts sector.
"This type of education actually trains young Americans for careers that are in high demand," he said. "It really bothers me that so much of formal education and so many politicians are saying, 'Everybody has to have a four-year degree in film appreciation and environmental studies.'"
Lutz also said:
--The Obama administration had "absolutely nothing" to do with the Chevrolet Volt, despite claims by some conservative critics.
--He's "very enthusiastic" about clean energy and believes there is a good chance the U.S. can be petroleum and gas independent by 2015 or 2016.
--Ford, GM and Chrysler are all producing the best products in the companies' histories.
--The automotive company with the strongest global presence, particularly in China, is positioned to "be number one and well-off."
Lizzy Alfs is a business reporter for AnnArbor.com. Reach her at 734-623-2584 or email her at lizzyalfs@annarbor.com. Follow her on Twitter at http://twitter.com/lizzyalfs.