Posted on
Fri, Jul 8, 2011 : 1:40 p.m.
Meet downtown Ann Arbor's newest retail destination: Bongs & Thongs
By Lizzy Alfs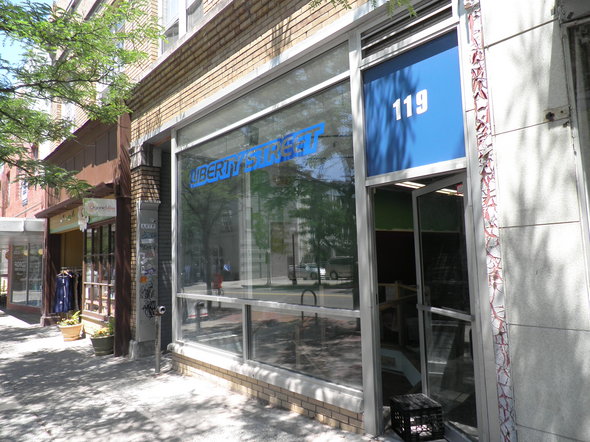 Lizzy Alfs | AnnArbor.com
A downtown Ann Arbor business owner said he wants to "spice things up" with his new retail venture on
East Liberty Street
: a store called
Bongs & Thongs
.
With lime-green walls and items such as lingerie, massage accessories and hookah products, Bongs & Thongs is sure to draw attention.
Owner Kilo Hassan said he's aiming to open the shop by the end of July.
Hassan last month signed a one-year lease to occupy the 2,600-square-foot building at 119 East Liberty St. in downtown Ann Arbor. The shop building, owned by Ali Amiri, has been vacant since Liberty Street Video closed in October 2009. It's located steps to the west of Running Fit and Metamorphisis Salon and to the east of Kilwin's ice cream and chocolates shop.
Hassan said his business would be separated into two parts — both open only to customers who are 18 years and older. The 1,300-square-foot basement will be an adult novelties shop, and the 1,300-square-foot street-level space will be a head shop.
"It was the location that put the idea together," Hassan said. "With the two floors, it's the best of both worlds. You can buy everything in one spot."
Hassan said the inventory at Bongs & Thongs would include lingerie, oils, massage accessories, hookah products, hand-blown glass tobacco products, hose cleaners, incense, posters and decorations for people's homes. He said he plans on hiring three to four employees.
"It's just a fun store," he said. "I want to make it fun and make people not mad anymore. I hope this stuff brings happiness to people."
Although Bongs & Thongs faces competition with similar stores in downtown Ann Arbor — including the Safe Sex Store, Stairway to Heaven and 42 Degrees — Hassan said he'll price his inventory 30 to 50 percent below the other stores.
"I've done a ton of research and been to these similar stores in Ann Arbor a hundred times," he said. "We want to slash our prices in half but have the same top-quality brands."
With plans to open before the Ann Arbor Art Fair, Hassan said the space only needs minor renovations like painting, new showcases and shelving. He said he'll also mostly cover the large front windows in the building that face E. Liberty St. as a means of maintaining customers' privacy.
And with high foot traffic in downtown Ann Arbor, Hassan said he hopes to draw customers inside with his interesting inventory and unusual store name.
"Liberty is a very busy street," he said. "We're right by Main Street and right by the bus station. The traffic is there, it's just trying to get people in the door and hopefully we have what people want."
And although he anticipates Bongs & Thongs generating buzz, Hassan said that his decision to open the store in Ann Arbor ultimately stemmed from his desire to help others and make his customers happy in their personal relationships.
"You could call this a gift shop and a relationship helper," he said. "I want to dedicate my store to relationships."
Lizzy Alfs is a business reporter for AnnArbor.com. Reach her at 734-623-2584 or email her at lizzyalfs@annarbor.com. Follow her on Twitter at http://twitter.com/lizzyalfs.