Posted on
Sat, Jul 6, 2013 : 1:11 p.m.
Bookbound preparing to join Ann Arbor's community of independent bookstores
By Ben Freed
Barnes and Noble may have continued shrinking in the nearly two years since the last Borders closed, but smaller independent bookstores have begun to fill in the void both locally and across the country.
"The America Booksellers Association, the main advocacy body for independent booksellers, has been reporting gains now for two years running," Peter Blackshear said.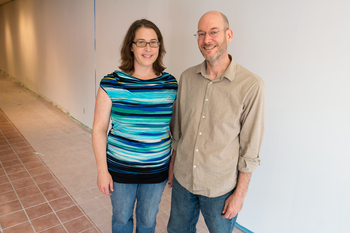 Courtney Sacco | AnnArbor.com
"Borders closing was 800 stores gone overnight and that made room for new people to start up."
Blackshear, who worked for Borders for over 20 years and has 12 years experience as a bargain book buyer, will have another gain for the association to report when he and his wife, Megan, open Bookbound on Plymouth Road later this summer.
The store, which will open in late August in the Courtyard Shops, has been in the works for about a year.
"Last summer we started bouncing the idea around about having a bookstore and then in the fall it really changed from a fantasy to 'maybe we should really do this,'" Megan Blackshear said.
As Megan and Peter took the first steps towards opening their own store, they heard about another couple who were contemplating the same thing. Peter said he and Megan met early on with Hilary Lowe and Mike Gustafson, who were at the time still searching for a location for the recently opened Literati bookstore.
"It was a little frightening thinking that two of us were going to be trying to do this at approximately the same time, but we both came in with a 'the more the merrier' attitude about it," he said.
"It was comforting to think that there had been 40,000-square-foot bookstores in town before, so if they're going to have a couple thousand square feet and we're going to have a couple thousand there should be enough business for both of us."
Lowe said since its opening three months ago business at Literati has been even better than expected.
"We've been doing well, and I'm excited that Book Bound is going to be here now too," she said. "I think it's going to be great and it will add even more to the book culture we have in Ann Arbor." Literati and Book Bound join other, more established stores such as Nicola's Books on the west side and Aunt Agatha's downtown.
Similar to Lowe and Gustafson, the Blackshears said that a big part of their business model is the personal connections they will make with their customers.
"Independent bookstores, especially ones where the owner is on the premises, can connect to customers much better than the big stores could," Peter said.
"It can both personalize the experience and the selection with in the stores. When I was working for Borders I was buying for hundreds of stores and I couldn't worry about if one store in Jersey had a fan base for this one author. Now as I talk to people who come in I can be attentive to that sort of thing. That really makes a difference."
Personalizing the selection within the store is neither easy nor cheap, Peter Blackshear said. He estimated that the cost of opening Book Bound will be between $100,000 and $200,000.
"The lions share of the investment is in the books themselves, and even that requires a lot of guesswork," he said. "When we open we'll have about 10,000 books in stock."
Of the thousands of books in the store, Megan said that the two initial "specialty areas" will be bargain books and children's books.
"The kids' books are really fun to look at and pick out and people like to touch them and see them and give a child a physical gift," she said. "It's actually a growing market which is rare in the book business."
With their focus on owner-customer interaction, Megan said the couple doesn't plan on hiring many new employees during the store's first few months of operation.
"At the beginning it will just be Peter and I with a couple of friends doing a shift here and there," she said.
"We look forward to being able to hire people, but at the beginning it's a small store so we plan on mostly running it ourselves."
Book Bound is renovating their space in the Courtyard and is planning on a mid-to-late August opening with a "Grand Opening" tentatively planned for the first week in September. Editor's note: The story and headline have been corrected to note that the name of the store is one word: 'Bookbound,' not 'Book Bound'
Ben Freed covers business for AnnArbor.com. You can sign up here to receive Business Review updates every week. Get in touch with Ben at 734-623-2528 or email him at benfreed@annarbor.com. Follow him on twitter @BFreedinA2