Posted on
Thu, Aug 4, 2011 : 3:43 p.m.
Borders CEO Mike Edwards exits as liquidation continues
By Nathan Bomey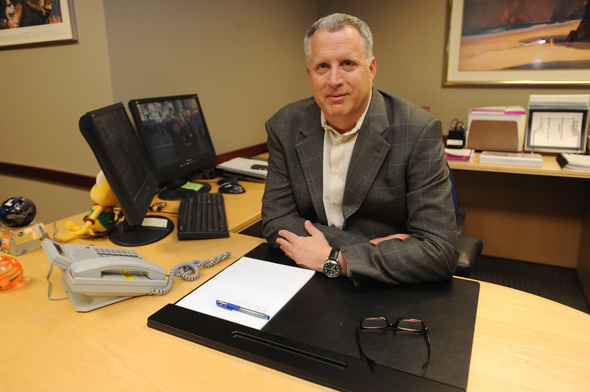 Melanie Maxwell | AnnArbor.com
Two
Borders
executives who led the company through its
Chapter 11 bankruptcy
filing and
liquidation announcement
— including Borders Inc. CEO
Mike Edwards
— are no longer with the company, according to a July 29 filing with the
Securities and Exchange Commission
that became public today.
The Ann Arbor-based bookstore chain said in the SEC filing that it had "terminated" Edwards, who was president of Borders Group Inc. and CEO of the bookstore subsidiary called Borders Inc., and chief financial officer Scott Henry. The circumstances of their departures were not immediately clear.
Borders said Holly Felder Etlin would serve as president as the company finishes its liquidation. Etlin, a managing director of restructuring consultancy AlixPartners, has been serving as Borders' senior vice president of restructuring.
The SEC filing did not address whether the Edwards and Henry would receive any compensation tied to their departures — although the executives did not qualify for bonuses when Borders decided to liquidate.
"As a result of the liquidation of Borders, Mr. Edwards, Mr. Henry and several other executives' services were no longer needed as we wind down the company," Borders said in a statement. "This is a normal course of business in a large scale liquidation and should not be construed as anything else."
Edwards, an Ann Arbor resident, has declined interviews since the company announced July 18 that it would abandon its attempts to restructure and, instead, pivot quickly into liquidation proceedings.
In a rare interview in May, he told AnnArbor.com that he was confident the company could survive if it secured concessions from major publishers.
"All I can tell you is that we are here fighting to the end," he said at the time. "We know we have a business plan that works, but it requires a lot of support to get it there, and our publishers are going to make or break our ability to transform this company at the end of the day."
Edwards and Henry are among 10,700 Borders employees who will lose their jobs, including about 400 at the company's corporate headquarters. A group of liquidation firms are currently conducting going-out-of-business sales at Borders' remaining 399 stores.
Contact AnnArbor.com's Nathan Bomey at (734) 623-2587 or nathanbomey@annarbor.com. You can also follow him on Twitter or subscribe to AnnArbor.com's newsletters.