Posted on
Tue, Mar 30, 2010 : 10:50 a.m.
Ann Arbor-based Borders 'close to arranging financing' to repay $42.5M loan
By Nathan Bomey
Ann Arbor-based Borders Group Inc. is rushing to secure financing that would help the cash-strapped book store chain repay a $42.5 million loan due Thursday, according to Bloomberg.
Bloomberg, citing anonymous sources, said Borders "is close to arranging financing that would allow it to repay a loan due this week."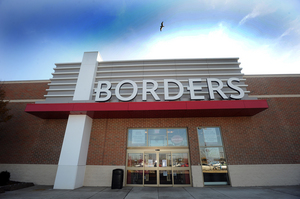 AnnArbor.com file photo
Investors and analysts have been closely watching Borders as the loan's April 1 deadline approaches. The loan is due to New York hedge fund Pershing Square Capital Management, whose manager, William Ackman, has already renegotiated the loan three times.
If Borders secures financing to repay the loan, that might indicate that it has convinced investors that it has identified a pathway to profitability. That pathway could involve significant cuts, however, experts have said.
Meanwhile, Borders has still not announced when it would reveal its fourth-quarter earnings report -- which has inspired speculation among experts that Borders is scrambling behind the scenes.
"One of the reasons they are probably late on their financials is because they are feverishly trying to renegotiate the loan," Farmington Hills-based turnaround expert Ken Dalto told the Detroit Free Press on Sunday.
Borders spokeswoman Mary Davis, asked yesterday for details about Borders' turnaround efforts, declined to comment in an e-mail.
Contact AnnArbor.com's Nathan Bomey at (734) 623-2587 or nathanbomey@annarbor.com or follow him on Twitter. You can also subscribe to AnnArbor.com Business Review's weekly e-newsletter or the upcoming breaking business news e-newsletter.