Posted on
Sun, Nov 15, 2009 : 6 a.m.
Ann Arbor-based Borders faces holiday sales litmus test on its future
By Nathan Bomey
Borders Group Inc., the beleaguered Ann Arbor-based bookstore chain, managed to survive the peak of the global financial crisis due to aggressive cost-cutting and cash conservation.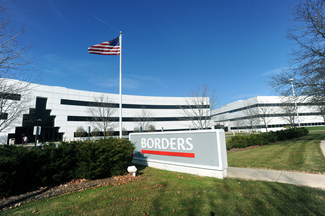 Photo by Lon Horwedel | AnnArbor.com
But the 2009 holiday shopping season will serve as a litmus test for Borders' long-term strategy as the book industry braces for an intense price war and as technology influences consumers' buying habits.
That follows last year's financial crisis, when Borders edged perilously close to disaster as sales plummeted and its cash dried up, analysts said.
The risk of Borders liquidating has declined, but the company now faces the long-term realities of the bookstore industry's shaky future.
"It's just put up or shut up time for them," said Michael Norris, a bookstore analyst for Rockville, Md.-based Simba Information. "They really need to show that they haven't turned customers away and that they're still a great place to shop with a good selection and a well-edited stock of books."
Ann Arbor, the birthplace of Borders, has a vested interest in Borders' survival. The $3 billion company employs some 895 workers at its corporate office in Ann Arbor's Research Park and at local retail stores.
The firm, which has 25,000 employees globally and 515 superstores, eliminated 526 corporate jobs and 742 retail positions in 2008 and 2009.
That doesn't include 1,500 retail job cuts announced this month as Borders slashes its mall-based Waldenbooks chain from 330 stores to 130. That proposed list of closures includes the Borders Express store in Ann Arbor's Briarwood Mall.
Sales disappoint

The cuts come as Borders' sales continue to suffer. The company lost $45.5 million during the second quarter as same-store sales dipped 17.9 percent from the comparable period in 2008. Competitor Barnes & Noble's same-store sales dropped 6.9 percent for the same period, yet the company reported a profit of $12.3 million during the quarter.
The losses are disappointing, but Borders' aggressive cost-cutting gives investors cautious optimism.
The latest financial report "showed a company on the right track and now well positioned to survive," wrote Credit Suisse analyst Gary Balter in a recent report.
But Borders now faces "perhaps the most difficult challenge of driving profitable sales in a tough sector and a weak macro environment," Balter wrote.
Borders executives declined to comment for this story.
"Borders is a great brand name. It really is," said Todd Sullivan, a former Borders investor and investment pundit. "If people want to go to a bookstore, it's a nice environment, and I think it could be saved. But I don't know what direction they're going in."
Among Borders' challenges:
-An intense price war that levies an abrasive effect on bookstore chains. Wal-Mart, Amazon.com and Target are driving down the price of some major books through aggressive online sales strategies during the holiday season.

Photo by Lon Horwedel | AnnArbor.com
"Mostly it's all about price," Ypsilanti resident Joshua Colvin said after a recent trip to Borders' concept store on Lohr Road in Pittsfield Township. "I try to order books off Amazon. I like to come to Borders to look around."
-A Web presence widely considered inferior to its competitors. Borders in early 2008 abandoned its long-time sales partnership with Amazon in favor of establishing its own site, Borders.com. Borders, which has previously acknowledged the site's challenges, declined to provide sales figures for Borders.com.
-A tough economy for retailers, defined by 10.2 percent national unemployment, not to mention 15.3 percent in Michigan. In 2008, book sales declined 1.5 percent to 3.1 billion units, according to a report from the Book Industry Study Group.
Borders facts
Ann Arbor area employees: 895 at corporate headquarters and retail locations

Local retail: Borders superstores on Liberty Street, Lohr Road and Washtenaw Avenue; Borders Express at Briarwood Mall

Annual revenue: About $3 billion

Superstores: 515

Downsizing: Slashing 200 of 330 stores in mall-based Waldenbooks chain; cut 1,266 jobs at headquarters and retail locations in 2008 and 2009

Store changes: Cut DVDs, music inventory by 50 percent; increasing children's inventory by 20 percent; added free wireless Internet
"The overall consumer environment remains weak," Borders CEO Ron Marshall said in August, according to a transcript of a call with investors. "But everyone in retail today is navigating the same waters, so we'll continue to deal with our reality and move on."
-An ill-defined strategy to compete in the growing e-book segment. Borders' partnership with Sony's e-reader unit has elicited noticeably less publicity than Amazon's Kindle and Barnes & Noble's new "Nook" e-reader.
Retailers are expected to sell 3 million e-readers in 2009, including 900,000 this holiday season, according to an Oct. 7 report from Forrester Research. Sales are projected to double in 2010.
"What the e-readers do in my opinion is they create loyalty," Sullivan said. "If I have an Amazon Kindle, the only place I'm buying books is Amazon. Borders is the odd man out in that whole thing. They cannot compete with the Wal-Marts, the Amazons of the world on price, so they have to compete on the e-reader level."
Serving a niche

Still, some experts believe Borders can carve out a niche for itself by investing in store upgrades, surgically eliminating unprofitable locations and improving customer service. Borders recently announced that it would implement an "in-stock guarantee" during the holiday
season.

Upheaval in the company's leadership - including the Jan. 5 firing of CEO George Jones - has led to some positive steps, analysts said. One move that drew praise: reducing its focus on sales of movies and music.
Borders has slashed its music and DVD inventory by 50 percent. The company is filling some of that space by increasing its space devoted to children's products by 20 percent.
"Part of it is going back to what a bookstore is and also understanding that when a customer walks into a store, they should not walk out without a book," Norris said. "You're there for the experience, you're there to spontaneously pick up a book that you might come across. It's a different value proposition. They've just really got to work at placing the book in their hands."
Stock price fluctuates

Borders' stock plummeted to a 52-week low of 35 cents in the stock market doldrums of early 2009. Shares hovered around $2 last week - giving it a market value of about $110 million - as investors remain wary of the company's future in the tumultuous book market. The company will report its third-quarter sales on Nov. 24.
Borders' largest shareholder, New York-based $1.6 billion hedge fund Pershing Square Capital Management, owns a 17.6 percent stake, according to data from CNBC.

Pershing CEO William Ackman, through a spokeswoman, declined to comment for this story. A representative from UBS Securities, which owns 5.3 percent of Borders, also declined to comment.
Sullivan suggested that Ackman would not allow Borders to liquidate if its financial picture deteriorates significantly. Ackman could choose to acquire additional shares, convince shareholders to take the company private and reorganize Borders.
"He has too much in it to let it go under," Sullivan said. "He could take it private and do what he wants with it."
Contact AnnArbor.com's Nathan Bomey at (734) 623-2587 or nathanbomey@annarbor.com. You can also follow him on Twitter.