Posted on
Fri, Oct 15, 2010 : 1:40 p.m.
Borders introduces self-publishing service for e-books
By Nathan Bomey
Ann Arbor-based retailer Borders Group Inc. said this morning that it would give amateur authors the ability to self-publish electronic books and sell them through most major e-book stores.
Borders developed the e-book self-publishing service in cooperation with BookBrewer, a subsidiary of Boulder, Colo.-based FeedBrewer Inc. It will be available starting Oct. 25.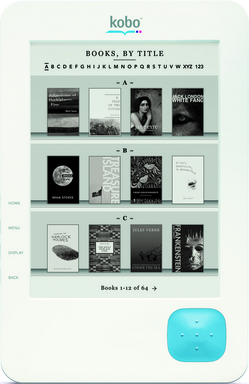 Photo courtesy of Borders
Borders said the service "makes it seamless for any writer or blogger to format, display and sell their content across a number of technology platforms including a variety of tablets and eReading devices."
Borders spokeswoman Mary Davis, asked by e-mail whether the self-publishing service would make books available through Apple's iBooks and Amazon's Kindle, responded only that "books will be available in the Amazon store."
Authors can upload their manuscripts by copying and pasting text into an online form or uploading from an existing Web page. The text is converted into an ePub file, a format that many e-book stores require.
Authors can pay $89.99 for a basic package in which their book will be assigned an ISBN and be made available for sale "to all major eBook stores at a price set by the writer," Borders said. Under the $199.99 advanced publishing package, authors "will receive a full version of their ePub file, which they will own and may share with friends, family or submit on their own to eBook stores."
"We know many book lovers are also writers or aspiring authors who want to share their stories but do not want to invest the time and money to self publish in print," said Mike Edwards, CEO of Borders Group subsidiary Borders Inc., in a statement. "We're excited to give new writers and bloggers an opportunity to reach an expanded audience as they make their foray into digital."
Contact AnnArbor.com's Nathan Bomey at (734) 623-2587 or nathanbomey@annarbor.com. You can also follow him on Twitter or subscribe to AnnArbor.com's newsletters.