Posted on
Fri, May 27, 2011 : 10:58 a.m.
Borders 'likely' to sell its assets in lieu of traditional reorganization, creditors say
By Nathan Bomey
A committee representing Ann Arbor-based Borders Group Inc.'s top creditors filed a motion Thursday objecting to the bookstore chain's request to extend the period in which the company can exclusively propose a reorganization plan.
And the committee, which represents the top publishers affected by Borders' Chapter 11 bankruptcy filing, asserted that Borders is "likely" to sell its assets within the next 30 to 60 days instead of reorganizing under bankruptcy protection.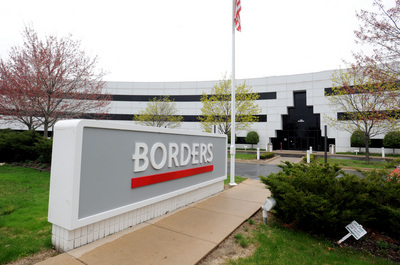 Melanie Maxwell | AnnArbor.com
The creditors said they were "gravely concerned" that an extension would harm their financial interests because Borders has lost some $180 million since filing for bankruptcy Feb. 16.
Borders' top seven unsecured creditors, including publishers such as Simon & Schuster and Random House, are owed more than $193 million, according to bankruptcy documents.
Borders has said it's close to finishing a bankruptcy reorganization plan but that it must convince publishers to agree to concessions for the plan to achieve viability.
But the creditors said in the filing with the U.S. Bankruptcy Court's Southern District of New York that Borders would probably pursue a sale of certain assets through the bankruptcy code's 363 provision. That provision allows bankrupt companies to sell off or spin off its most valuable assets while the old, unwanted assets are liquidated inside bankruptcy. This was the provision that General Motors, for example, used during its bankruptcy in 2009.
According to multiple reports, several parties have expressed interested in buying parts of Borders but none have sought to buy the entire company, which employs fewer than 400 workers at its Ann Arbor headquarters.
Borders last week filed a motion requesting that the court grant a 120-day extension to its right to exclusively propose a reorganization plan. Under the proposal, Borders would have until Oct. 14 to propose a plan with the court.
The creditors on Thursday objected to that request, unless the court specifies that the extension does not preclude the creditors committee from proposing its own competing plan for Borders' reorganization.
Borders, in a statement released to AnnArbor.com, said it's "customary in the early stage of complex cases for debtors to seek extensions of exclusivity. Moreover, in this case it is necessary given the company's significant progress to date, and the extensive ongoing efforts undertaken to solicit potential interest, which has been fully disclosed to the (creditors)."
The company argued that the court should allow Borders to "continue to lead the process to a successful resolution — whether that be through the emergence from restructuring of a strong Borders, or a sale of the business in a way that will maximize value."
Meanwhile, attorneys for Starbucks Corp.'s Seattle's Best Coffee LLC filed a motion Thursday objecting to Borders' request to terminate its cafe contract.
Seattle's Best said that its contract with Borders requires that, if the contract is terminated, the company must work to ensure that the Seattle's Best brand and hallmarks are removed from its cafes and products.
"As a practical matter, SBC does not want the brand it has worked hard to develop used to promote a different and likely inferior product offering," the company said in its filing.
Contact AnnArbor.com's Nathan Bomey at (734) 623-2587 or nathanbomey@annarbor.com. You can also follow him on Twitter or subscribe to AnnArbor.com's newsletters.