Posted on
Wed, Jun 22, 2011 : 1:52 p.m.
Borders racing to meet deadline for sale as liquidation looms as possibility
By Nathan Bomey
The climax of Ann Arbor-based Borders Group Inc.'s bankruptcy process is drawing close — and the outcome will determine whether the bookstore chain is sold and stays in business or is forced to liquidate.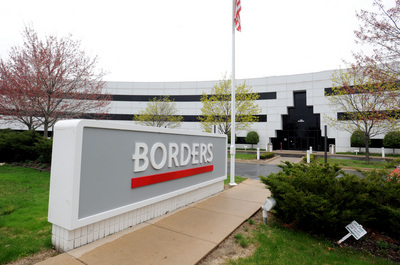 Melanie Maxwell | AnnArbor.com
A U.S. Bankruptcy Court judge today approved Borders' plan to hold a bankruptcy auction for its assets on or before July 19, a spokeswoman confirmed.
But the company has only until July 1 to secure and reveal a "stalking horse" bid for a substantial portion of its assets. That would establish a single entity as the leading bidder for the company, setting the bar for all other potentially interested acquirers.
Borders, in a court filing Friday, said that if it isn't sold, it would be forced "to halt operations and liquidate on an expedited basis, with the attendant loss of value to the estates, recoveries to unsecured creditors and thousands of jobs."
A liquidation of the company would affect the 11,000 people who still work at the company's more than 400 stores nationwide and the nearly 400 workers still employed at its Ann Arbor headquarters.
Los Angeles-based Gores Group and Phoenix-based Najafi Companies — both private equity firms — are both considering a bid for most of Borders' stores, according to previous reports by the Wall Street Journal.
Meanwhile, the bankruptcy judge, Martin Glenn, told Borders attorneys today that the bookstore chain was being mistreated by lender GE Capital, according to a Reuters report. GE recently required Borders to pay $1 million for the right to adjust its bankruptcy financing agreement.
"I think you're getting raped, is the best way I can describe it," Glenn said, according to Reuters.
If Borders successfully sells itself to a private equity firm, it's unclear what will happen to the company's Ann Arbor headquarters, which employs close to 400 workers. Borders, which filed for bankruptcy in February, has previously said it is considering a move out of Ann Arbor.
Contact AnnArbor.com's Nathan Bomey at (734) 623-2587 or nathanbomey@annarbor.com. You can also follow him on Twitter or subscribe to AnnArbor.com's newsletters.