Posted on
Tue, Jul 19, 2011 : 10:57 a.m.
Borders' expansion hastened its implosion
By Nathan Bomey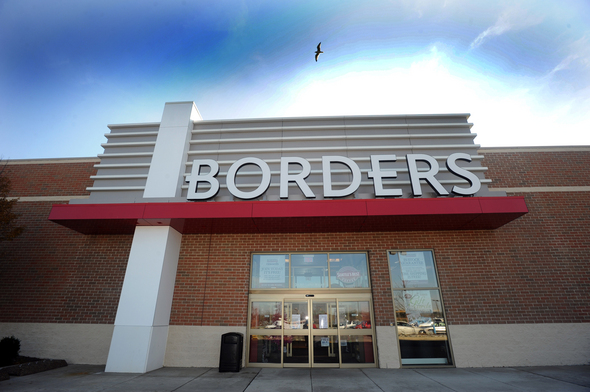 File photo | AnnArbor.com
As
Borders
dissolves, it's natural to assign blame.
You can plausibly fault the company's executives, its competitors, the Internet, electronic books or even our culture itself.
But the biggest single reason for Borders' fall was its rise. Its rapid expansion.
Much of the coverage of Borders' liquidation — which the company announced Monday after five months of navigating Chapter 11 bankruptcy — is sure to center on the role of e-books in weakening Borders.
And, to be sure, it's probably fair to say that e-books crushed any hopes Borders still had of staying alive.
And, yes, the company's decision to outsource its online sales to Amazon.com in 2001 was a shocking blunder that the company was never able to recover from.
But the company's descent can be traced back to the corporate expansion that started after founders Tom and Louis Borders sold the 21-store chain to Kmart Corp. in 1992. The Borders brothers left, Kmart combined Borders with its Waldenbooks unit and the new company went public in 1995 under CEO Robert DiRomualdo.
By that point, Borders already had 158 superstores, averaging $259 per square foot in annual sales, according to Securities and Exchange Commission filings. Borders' sales performance peaked at $261 per square foot in 1997 when the company had 204 superstores.
Then the sales decline started — but the expansion continued. In fact, Borders didn't stop adding stores until 2007, a decade after its sales per square foot peaked. By 2009, sales per square foot had tumbled to $173, some 33.7 percent less than its peak 12 years earlier.
"They failed to recognize that the company needed to be downsized," said Jim McTevia, a turnaround consultant with Bingham Farms-based McTevia & Associates.
Borders superstores

This table shows the rise in the number of Borders superstores at the end of each fiscal year and corresponding fall in the average sales per square foot of those stores in the years since the company's 1995 initial public offering, according to U.S. Securities and Exchange Commission records.

1996: 158 superstores ($259 average sales per square foot)

1997: 204 ($261)

1998: 256 ($256)

1999: 300 ($255)

2000: 349 ($255)
2001: 385 ($245)
2002: 434 ($237)
2003: 482 ($223)
2004: 504 ($227)
2005: 528 ($232)
2006: 567 ($236)
2007: 541 ($228)
2008: 518 ($203)
2009: 511 ($173)
A little bit of basic calculus could've stopped Borders from expanding too quickly. Borders was so focused on just increasing revenue that it apparently never paused to examine the percentage change in its revenue increases. That is, revenue was still increasing — but the pace of the revenue increases was falling, an early indication of troubles.
Put it simply: Borders got too big, too fast.
Once it became obvious that Borders' store footprint was too large, the company was locked into hundreds of expensive leases that extended beyond 2017. Borders was paying $1 billion in annual rental costs when it filed for bankruptcy.
Bankruptcy helped the company shed unprofitable leases, but the company was still relying on a broken business model centered on massive physical stores.
When the Internet emerged as a legitimate sales opportunity, Borders was too focused on running 25,000-square-foot superstores instead of pursuing new market opportunities.
And by the time e-books came onto the scene, Borders didn't have the cash to invest in its own e-reader.
"The failure to recognize the transition of the industry, the failure to downsize their retail operations, and exit the mall" store business were key mistakes, McTevia said.
In a rare interview in May, Borders Group Inc. President Mike Edwards — CEO of the company's bookstore unit, who joined the company two years ago — said Borders fell prey to the superstore rush of the 1990s.
Opening more stores, he said, "hides a lot of sins."
The consequence of those sins is now painfully obvious.
Contact AnnArbor.com's Nathan Bomey at (734) 623-2587 or nathanbomey@annarbor.com. You can also follow him on Twitter or subscribe to AnnArbor.com's newsletters.