Posted on
Fri, Jun 15, 2012 : 2:15 p.m.
Boutique clothing store Mix Laundry opens in Briarwood Mall
By Ben Freed
Angela Cesere | AnnAbor.com
While it might sound like a new place to clean your clothes,
Mix Laundry
is a boutique-clothing store holding its grand opening Friday in
Briarwood Mall
.
The store, a brainchild of sole owner Latache Dabney, sits directly across from H&M in the wing of the mall anchored by Sears.
Dabney came up with the name Mix Laundry as she was deciding what kind of shop she wanted to open.
"There's women's clothes and men's clothes. It targets different age groups, we have plenty of different brands; everything about it was a mix," she said. "And then laundry basically just means clothing, so it's Mix Laundry."
Women's clothing in the store ranges from $5 for some tank tops to $50 to $60 for jeans, Dabney said. Men's clothing ranges in price from about $20 for some shirts to $150 for the most expensive items.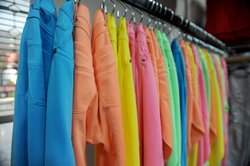 Angela J. Cesere | AnnArbor.com
Mix Laundry is Dabney's second foray into the retail clothing business. The first store she operated, Emmett's Sportswear, was in Detroit and is no longer open.
Both Dabney and Ida Hendrix, Briarwood's general manager, agree that the 800-square-foot location in the mall is optimal for the shoppers Dabney hopes to attract.
"We really think that some of her clothing is comparable to what is in H&M," Hendrix said. "She will be appealing to a similar audience, so she'll be able to attract people who are down here in this area anyway."
Hendrix also noted that Dabney was in the minority as the proprietor of a locally owned business in Briarwood.
"We mostly have national and regional tenants, but we do have a sprinkling of independent operators," she said. "It really adds interest to the shopping center and makes us a more unique place to visit."
Hendrix said the previous tenant of the space was the cosmetics company Avon.
Dabney said that she is the only one working at the store at the moment, though she has been getting some volunteer help from family members. She plans to hire a few employees to help her with sales.
Mix Laundry was giving a 15 percent discount Friday, but only to those who mention the discount at the register.