Posted on
Mon, Nov 21, 2011 : 12:48 p.m.
Black Friday: Nearly two dozen Briarwood Mall stores to open at midnight
By Lizzy Alfs
Ann Arbor's Briarwood Mall is planning the earliest Black Friday opening in its history, following a national trend of big-box stores opening earlier and earlier to compete for business.
So far, 22 mall stores have announced midnight openings on Friday, and more may follow suit. Early last week, only 12 retailers were planning to open at midnight.
It's a particularly notable move for the mall, which rarely opens its doors in the early morning hours and has never opened at midnight on Black Friday.
The rest of the stores in Briarwood will open at 4 a.m., an hour earlier than the mall opened its doors on Black Friday last year.
"This is new for us to open at midnight," said Ida Hendrix, the general manager at Briarwood. "And I'm excited to see how it's going to unfold."
The following stores have announced they will begin Black Friday sales at midnight: Macy's, Starbucks, Ann Taylor, Express, American Eagle, Eddie Bauer, Hot Topic, Abercrombie & Fitch, Hollister, Journeys, Bath & Body Works, Aeropostale, PacSun, Gap, Champs, Forever 21, Wet Seal, The Buckle, Windsor, Glitter, Auntie Annes and The Body Shop.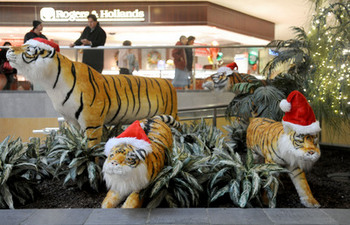 Angela Cesere | AnnArbor.com
Hendrix said its unclear how the scene at Briarwood will change with doors opening earlier, but said it will be a crucial day for retailers.
"The number of people coming is unpredictable," she said. "But people will be coming earlier to the shopping center. It's the biggest shopping day for us."
Many retailers record about 30 percent to 35 percent of their yearly sales from Black Friday until the end of the year.
"You can run in the red all year long," said Denise Murray, director of marketing and business development for Briarwood. "Come Black Friday, you can start to make your goals."
With other big-box stores also announcing early openings this year — including Target, Kohl's, Best Buy, Toys "R" Us, Old Navy and Walmart — there has been backlash from some employees and shoppers protesting the new hours.
A petition on Change.org called "Tell Target to Save Thanksgiving" calls for Target to cancel its midnight opening on Black Friday. It has received more than 190,000 signatures. There is a similar campaign against Best Buy.
But Hendrix said that the general feeling at Briarwood from retailers is excitement.
"I've been pretty surprised at how excited the merchants opening at midnight are," she said.
To ensure customer safety during the early morning hours, Hendrix said Briarwood will have extra security inside and outside the mall.
"We manage security and how much staff we're going to have based on expectations. There will be more security [on Black Friday]," she said. "We prepare behind the scenes and we want to be visible."
Lizzy Alfs is a business reporter for AnnArbor.com. Reach her at 734-623-2584 or email her at lizzyalfs@annarbor.com. Follow her on Twitter at http://twitter.com/lizzyalfs.