Posted on
Mon, Jun 27, 2011 : 9:09 a.m.
Big Boy's @burger restaurant closes on East Liberty Street in Ann Arbor
By Lizzy Alfs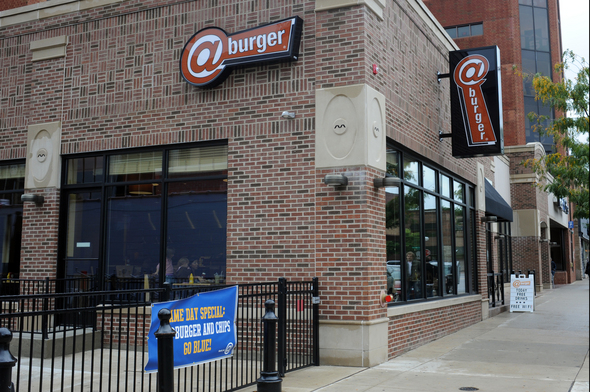 Melanie Maxwell | AnnArbor.com
(Editor's note: See also, Squares Restaurant in downtown Ann Arbor closes 'for summer vacation')
A sign on the door at @burger on East Liberty Street announces the restaurant has closed for business.
The restaurant closed about a year after the Big Boy Restaurants chain announced it would start the new concept in Ann Arbor, then expand it to other locations.
The 3,185-square-foot restaurant opened in summer 2010 in the McKinley Towne Centre Building at 505 E. Liberty.
Other tenants in the building include Tomukun Noodle Bar, the lab coffee shop and FedEx/Kinkos.
When the @burger concept was announced last year, Big Boy CEO Keith Sirois said the restaurant would likely become a national chain, possibly even opening a second location in Ann Arbor this year.
However, the closing of the first @burger location raises questions about the future of the national concept.
David Crawford, senior vice president of marketing for Big Boy, said the closing of the restaurant is probably the end of the @burger brand.
"This was an experiment," Crawford said. "We had a lot of learnings from it and some of those could potentially be used at Big Boy."
@burger was among several hamburger restaurants opening and seeking space in Ann Arbor in 2010, including Five Guys Burgers and Fries.
Dan Pasick, former regional leasing director for McKinley, said in a report last year that @burger won the lease for the space over Five Guys, which is now located about a block east on South State.
Crawford said the opening of Five Guys in January "definitely didn't help" the @burger restaurant.
"I think the town can only support so many burger concepts," he said.
Crawford also said the restaurant took a hit when many University of Michigan students left for the summer.
"Based on our location, we were surprised how many students we got," he said. "I didn't expect sales to drop as much as they did when the students left."
@burger offered a limited selection of mostly burgers, chicken sandwiches and salads, all priced under $10. The restaurant also had a beer and wine license.
Lizzy Alfs is a business reporter for AnnArbor.com. Reach her at 734-623-2584 or email her at lizzyalfs@annarbor.com. Follow her on Twitter at http://twitter.com/lizzyalfs.