Posted on
Wed, Jun 29, 2011 : 1:38 p.m.
Buzz Aldrin, in Ann Arbor, says space exploration needs Kennedy-style public goal
By Nathan Bomey
Photo courtesy of National Aeronautics and Space Administration
Apollo 11
astronaut
Buzz Aldrin
, speaking today at a business conference in Ann Arbor, called for a coordinated, international initiative to expand space exploration.
Aldrin also expressed disappointment that President Barack Obama ignored the 50th anniversary of the moment in 1961 when President John F. Kennedy challenged the U.S. to put an explorer on the moon by the end of the decade.
"I'm going to be talking to the people running against" Obama in 2012, Aldrin said.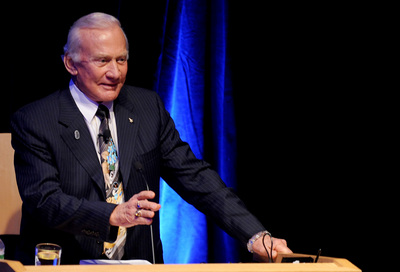 Angela Cesere | AnnArbor.com
He suggested that the vision for expanded space exploration needs to come in the form of a specific public objective.
In 1961, "many thought the challenge" of reaching the moon "would be impossible," he said. "We didn't have the knowhow, but we did have the leader with the vision, determination and confidence that we could get there."
He added: "By publicly stating our goal and putting a specific time period for achievement, a very specific accomplishment, President Kennedy gave us no backdoor. The challenged raised our spirits, reignited our can-do attitude, and brought us together as a nation."
Aldrin, the second person to step onto the moon, spoke at a conference organized by Ann Arbor-based supply chain software firm LLamasoft, which attracted executives from major corporate clients such as General Electric, Intel, Nike and PepsiCo.
LLamasoft, which has grown from about 20 employees a year ago to more than 60 today, is riding a surge of interest in its supply chain design and management system, which helps companies reduce transportation costs, avoid logistical problems and prevent disruptions.
LLamasoft CEO Don Hicks said he anticipated the obvious question — that is, why would you invite Aldrin to speak at a supply chain design conference?
"My first answer is some combination of 'because he's freaking cool' and 'why not' and 'because we can,'" Hicks said. "But it's also the case that we're trying to get to a bigger point that if you could wing it in terms of supply chain design, you'd do it. You really can't."
Supply chains, he said, must be meticulously mapped out and planned. Much like the Apollo 11 mission.
"They really weren't going to wing it," Hicks said.
Nonetheless, Aldrin said that guiding the lunar module on its 11-minute descent toward the surface of the moon at the Sea of Tranquility came quite close to "winging it" when overloaded computers caused a data screen to temporarily black out.
The error — which, Aldrin later found out, he had caused — prompted a brief moment in which Aldrin and Neil Armstrong came close to considering aborting the landing. But they called back to their command center in Houston for help — and they were cleared to land.
"It's sort of symbolic that you need to have backup calculations," Aldrin said. "It was thinking that got us the plan that got us to the moon. But it was courage and commitment that got us to execute and succeed."
In the 42 years since Aldrin last stepped on the moon, he's turned into a vocal proponent of a bulked-up space program, powered by commercial space flight operations and international cooperation.
"If we're to do more than just visit the moon and other planetary bodies — and humans are to establish a permanent and expanding presence in space — then the nations of the world have to learn to work peacefully together as they have done on the international space station," he said.
Aldrin emphasized that the Apollo 11 mission's success was an achievement that "brought together humanity."
"The benefit was worldwide," he said. "Everyone on earth felt they had participated in this incredible journey."
He said that increased space exploration, although costly, would improve international relationships, inspire students to get interested in science and math and lead to technological advancements.
"By venturing into space we improve life for everyone here on earth," he said.
Contact AnnArbor.com's Nathan Bomey at (734) 623-2587 or nathanbomey@annarbor.com. You can also follow him on Twitter or subscribe to AnnArbor.com's newsletters.