Posted on
Wed, May 12, 2010 : 5:59 a.m.
Cafe Luwak in Ypsilanti's Depot Town hiring to add sit-down lunch service
By Dave Gershman
File photo | AnnArbor.com
Jim Karnopp isn't someone to sit still. The owner of
Café Luwak
is continuing to refine his vision for the popular Depot Town eatery, recently adding a sit-down lunch service along with grilled hamburgers and chicken sandwiches.
Karnopp recently put out the call for lunch-time servers, hiring three in the past two months.
That followed the addition of breakfast at the eatery about a year ago.
"Anything the customers (suggest) is something that I'm going to really listen to," said Karnopp, who hopes the expanded menu will help the café attract more and larger groups of lunch-goers.
He won't add fries, however. He doesn't want to install a fryer and shift away from the café's image as "a more healthy place in town," said Karnopp, who has owned the East Cross Street café for about five years.
Expect the changes to keep coming. Karnopp wants to add another cook to begin serving grilled menu items in the evenings on Thursdays, Fridays and Saturdays.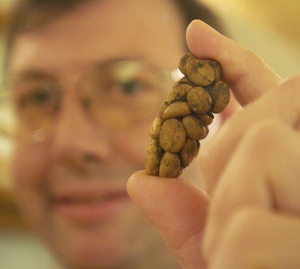 Jim Karnopp, owner of Cafe Luwak in Ypsilanti's Depot Town, holds Kopi Luwak coffee berries in raw form in late 2006.
Still being served at the café are its ice creams, coffees and deli sandwiches, such as the roast beef and roast turkey that is cooked in-house.
Business took a hit when a nearby fire added to troubles experienced by restaurants in a down economy. Street closings associated with last fall's fire that swept through the Thompson Block, an historic building, made getting around Depot Town more difficult. But with the arrival of warmer weather, business is looking up.
"We're definitely starting to pick up and this spring has been good," said Karnopp.
With the new table service, Karnopp is working on improving the customer service at the café's counter, which is still a popular place for take-out among employees in the Depot Town area. He acknowledged some problems in the past during busy lunchtime periods.
He's posted a copy of the new menu online. And he's working on creating a dedicated host position and still tinkering with the best way to run a lunch service.
He's got the patience to make it work. It took several years before the grill equipment was installed. He bought the kitchen equipment four years ago and finished an expansion of the kitchen last fall.
"I've been wanting to do this for a long time," he said.
Dave Gershman is an Ann Arbor-based freelance writer.