Posted on
Mon, Jul 25, 2011 : 5:57 a.m.
Made-in-Michigan food and wine shop set to open in Ypsilanti's Depot Town
By Laura Blodgett
The owners of Cafe Ollie in Ypsilanti's Depot Town plan to open a store featuring food and wine made in Michigan.
Called the Mi General Store, the store will be located next door to Cafe Ollie, which opened in January at 42 E. Cross St. The shop will primarily sell wine and beer with a small selection of chocolate, sweets, snacks and cheese.
"This is something that we have wanted to do for awhile," said Mark Teachout, who co-owns the cafe with his partner Danielle Scherwin. "It made a lot of sense to take the space when it opened up because the idea from the very beginning was always to expand on the desserts, sweets and baked goods and to serve beer and wine."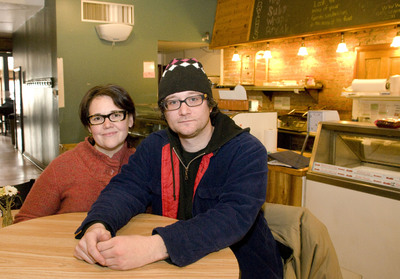 Tom Perkins | For AnnArbor.com
At 1,600 square feet, the new storefront is the same size as the cafe with the space broken into three separate rooms. Decorated with old Michigan signage, the front room will sell 100 percent Michigan-made items. The second room, which the business hopes to open later, would feature beer and wine from around the country as well as internationally. The back room will be used for storage.
"There are great products made here that I love, and I want to support my state," said Teachout.
He said that Michigan is known for its sodas, such as ginger ale and Faygo products. "We also have Zingerman's that makes very good chocolates, and we have some very good maple syrups here," Teachout said.
The shop also plans to carry dairy products from Guernsey, Calder Dairy and Tecumseh's Four Corners Creamery.
Though it's a large undertaking, Teachout says he is willing to carry every microbrew made in Michigan and will do everything he can to have every single Michigan wine producer on the shelves.
"I project that Michigan's wine will be every bit as thriving as Washington State and California at some point" said Teachout. Because of its climate, Michigan tends to do well with its sweeter and dessert wines, he adds.
People in Michigan are "almost rabid" about their support of Michigan products, said Teachout.
"If you spend a very small amount of your paycheck locally it does an amazing amount of things for your state," he said.
Although he will match the price of other local merchants selling Michigan products, Teachout's biggest concern is that people don't want to spend the extra dollars for quality products in place of getting the lowest-priced product possible.
"I think it is important that people understand if they pay $5 for something that is made in Sri Lanka, and they can get a similar product for $8 made in Michigan, they should take a hard look at why they are not spending another $3 for it."
Business is going well at Cafe Ollie, since the couple bought it from the owner of Cafe Luwak in January. The cafe maintains a very limited staff with one full-time employee in addition to the owners.
"The restaurant business is a lot of work, and an interesting way to make a living," said Teachout with a laugh. "It's like a never-ending dinner party."
Teachout and Scherwin have overhauled the cafe on everything from its color scheme to menu, adding vegetarian and vegan selections in addition to the regular lunch menu. Feedback has been good, said Teachout.
"People enjoy coming here because they can bring anybody here. You can come and get a corned beef with your vegan girlfriend and everyone is pretty much covered," he said.
The couple plans to open the Mi General Store shortly after they use the space to get married later this month. They will be holding the ceremony and reception onsite. "We are hoping to open by mid-August, but realistically it may be more like Sept. 1," said Teachout.
Laura Blodgett is a freelance reporter for AnnArbor.com.