Posted on
Fri, Apr 6, 2012 : 5:57 a.m.
Ann Arbor's Cottage Inn partners with Michigan International Speedway for campsite delivery
By Lizzy Alfs
Ann Arbor-based Cottage Inn Pizza has partnered with the Michigan International Speedway to become an exclusive pizza vendor on NASCAR weekends, MIS announced today.
Along with serving up pizzas to fans on race days, the company will offer 24-hour delivery service to the roughly 9,000 campsites on the MIS property — which is situated on 1,400 acres in Brooklyn, Mich.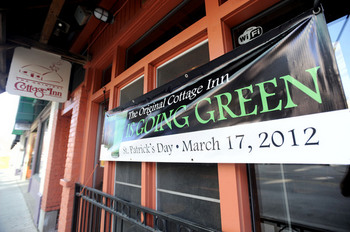 Angela Cesere | AnnArbor.com
The partnership, said MIS media relations manager Brad Kuhbander, is unlike any other in NASCAR history.
"Cottage Inn will be delivering directly to the campsites," he said. "That's never been done before. It's something new and unique for our fans."
The speedway is hosting two NASCAR race weekends this summer, in June and August. The events are expected to draw people from all over the country, and Kuhbander said the thousands of campsites on the property are typically sold out.
"When campers are back at their campsites and they get hungry, now they can order a pizza all night," Kuhbander explained.
Cottage Inn CEO Bob Brosnahan said in a release that the partnership is a "challenge" due to the sheer volume of pizzas that will need to be delivered.
He added: "This is a tremendous opportunity for us. We are in growth-mode here in Southeastern Michigan…We want to grow and we have the systems in place to do that. And the exposure here and the opportunity to brand here at Michigan International Speedway with all the great NASCAR fans is an unbelievable opportunity for us."
Bob Miller, Cottage Inn's marketing director, said the deal with MIS came about because both companies have an extensive history in the state.
"MIS was looking to partner with a Michigan-based pizza company," he said. "(Cottage Inn) is going to be celebrate its 65th anniversary here shortly and MIS has been operating for 45 years. It's just a good fit."
The Original Cottage Inn restaurant, located on East William Street in downtown Ann Arbor, opened in 1948. There are more than 50 Cottage Inn Pizza locations in Michigan and Ohio, with 10 in Washtenaw County.
Lizzy Alfs is a business reporter for AnnArbor.com. Reach her at 734-623-2584 or email her at lizzyalfs@annarbor.com. Follow her on Twitter at http://twitter.com/lizzyalfs.