Posted on
Sat, Jan 14, 2012 : 5:58 a.m.
Car companies' new problem: Young people who don't want a driver's license
By Nathan Bomey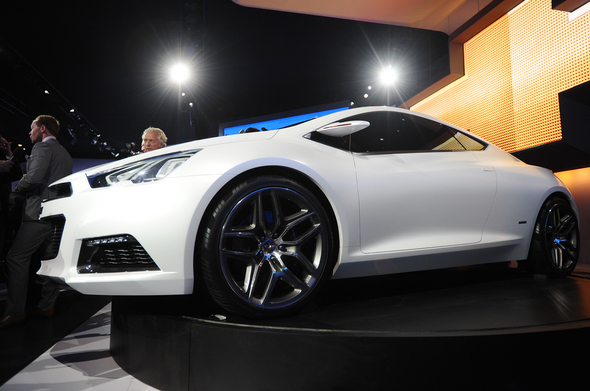 Melanie Maxwell | AnnArbor.com
(Related story: Detroit auto show: Auto companies try to appeal to Millennials)
Here's a quick way to summarize many young people's attitudes toward obtaining a driver's license: Meh.
It may be a welcome development for worrying parents, but it presents a problem for carmakers, which view apathy for driving among teenagers and twentysomethings as a looming obstacle.
Several automakers used their news conferences Monday and Tuesday at the 2012 North American International Auto Show in Detroit to show off their youthful vehicles and boast about how they're going to appeal to young car buyers.
Their claims come as academic research confirms what many parents have suspected: Getting a driver's license is not as cool as it used to be.
A University of Michigan Transportation Research Institute study published in the journal Traffic Injury Prevention found that 75 percent of 19-year-olds had their driver's license in 2008, down from 87 percent in 1983.
Among 18-year-olds, 65 percent have their license, down from 80 percent in 1983; among 17-year-olds, it's 50 percent, down from 69 percent; and among 16-year-olds, it's 31 percent, down from 46 percent.
One of the biggest reasons why fewer young people are driving is simple: social media.
"Virtual contact through electronic means reduces the need for actual contact among young people," study author Michael Sivak said in an email.
That confirms research conducted by John McFarland, senior manager of global marketing strategy for General Motors' Chevrolet brand.
"Their digital identities are inseparable from who they are in their day-to-day lives, at home, at school and at work," McFarland said at the auto show. "How those relationships develop and the meaning of digital interactions are quite different than generations that came before, which potentially reduces the need for as many face-to-face interactions. There are simply easier alternatives."
Sivak said there are other culprits to blame, too. First, the economy "makes it more difficult for young persons to own a vehicle," he said.
But young adults are also more likely to live in major cities, where mass transportation makes car ownership an option, and they're more likely to be concerned about carbon emitted by vehicles.
Not all of the auto companies are convinced the trend presents a major problem.
"I think most people do need and want cars in our North American vehicle market," said Bruce Brownlee, senior executive administrator for external affairs at the Toyota Technical Center.
One reason for the automakers to be encouraged is that more senior citizens are driving. Some 70 percent of ages 70 and older had their driver's license in 2008, up from 55 percent in 1983.
Perhaps more concerning for automakers is the state of their image among young people, including those who do drive.
"While these consumers are passionate about tech brands such as Apple, Google, Facebook as well as some more traditional brands like Nike and Target, what we see is that auto brands as a whole fall somewhere in the middle, somewhere between disinterest and complacency," McFarland said.
That's why the auto companies are focused on integrating new entertainment systems and digital connectivity systems into their new cars. It's part of a bid to change their image and appeal to consumers.
GM is also inviting young consumers to provide input to help shape the future of its vehicle development, which already led to two new concept cars: the Chevrolet Tru 140S and the Chevrolet Code 130R.
"We don't believe you can lump 80 million people into one group and pretend to understand them," McFarland said. "Just as consumers before them, this new generation of car buyers has very diverse needs and wants."
Contact AnnArbor.com's Nathan Bomey at (734) 623-2587 or nathanbomey@annarbor.com. You can also follow him on Twitter or subscribe to AnnArbor.com's newsletters.