Posted on
Fri, Mar 8, 2013 : 5:57 a.m.
Downtown Ann Arbor's Carol Roeda Studio reopening after more than a month of renovations
By Kody Klein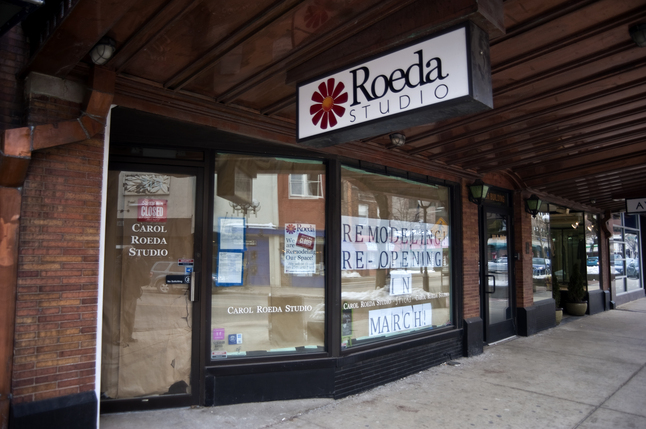 Joseph Tobianski | AnnArbor.com
When
Carol Roeda
expanded her
Grand Rapids-based studio
to downtown Ann Arbor, she didn't take the time to renovate the space.
"We just took the store as is and slapped on some paint," said Amy Roeda, Carol's daughter and the studio's manager of operations.
That was the fall of 2004 and after nearly a decade of use, Roeda decided to give the space a little facelift.
"It was desperate for a makeover," she said.
The 319 S. Main St. location was closed for renovations on Jan. 24. and will have a soft re-opening on Saturday.
"Most of it will be done by Friday, so we're going to open our doors on Saturday," Roeda said.
Instead of installing new accents, Roeda decided to tear out old ones she believed covered up the natural beauty of the space.
"It's a beautiful old building so we're going to expose more of what makes that building great," she said.
This meant knocking out undulating false walls and hanging ceilings to open the space up, as well as tearing up the tattered old carpet and the elevated platform in the corner to reveal the room's terrazzo flooring.
"It's a real simple box now that we can just put our things in," Roeda said. "Mostly it'll be the same, but we're hoping people will find it easier to shop."
Much of the work was contracted to James Fuchs' Fuchs Construction, 8793 Dexter Gables Lane, Dexter Township. But the terrazzo floors were refinished by studio's own staff.
"I'm quite proud of this," Roeda said. "It was a lot of work!"
Roeda declined to disclose how much the renovations cost the studio.
Although the store will reopen Saturday, its official reopening is scheduled to coincide with Carol's birthday on March 16. On that day, customers will be offered birthday cake and 20 percent off all purchases.
"We're making a commitment to downtown Ann Arbor," Roeda said. "We're making a commitment to our customers and the store. Ann Arbor has been a great spot for us. We're really happy with our business there and our loyal customers."