Posted on
Mon, Dec 3, 2012 : 5:57 a.m.
Catching fireflies retail shop signs lease to open in Ann Arbor's Kerrytown
By Lizzy Alfs
AnnArbor.com file photo
Fifteen years after
April
and
Steve McCrumb
started selling handmade paper goods at the
Ann Arbor Art Fair
and
Sunday Artisan Market
, they are returning to the area with a brick-and-mortar store.
The duo signed a lease to open catching fireflies, a "whimsical gift gallery," in the 2,850-square-foot space at 419 Detroit St., across the street from Zingerman's Deli.
"When we saw that building for rent, we were like, 'Wow, what a unique opportunity 15 years later to come full circle and open a store less than a block away from where it all started,' " April said.
As small business owners, the McCrumbs do it all: they operate catching fireflies stores in Berkeley and Rochester, Mich., they sell handmade photo frames and paper goods to more than 400 stores in the U.S., and they run an online store and blog.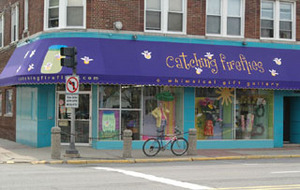 Photo from michigan.org
April said because business is going well, it made financial sense to open another store.
"We solely add other locations when our bank account can handle it," she said. "In the last couple years, we opened a store called (Yellow Door Art Market) next to our store in Berkley. It made catching fireflies more successful."
April describes the gift gallery as carrying "a little bit of everything." Decorated in bright colors with unique displays and fixtures, the stores sell accessories, kitchen gadgets, baby gifts, wedding gifts, retro candy, seasonal items, and bath and body products.
"The idea is if you're looking for a gift for anything we hope to fill your needs," she said.
Emerald Dragonfly most recently occupied the building on Detroit Street, which is owned by Treasure Mart owner Elaine Johns. Emerald Dragonfly closed in March after five years in business, and the building was then listed for lease with Swisher Commercial's Mike Giraud and Randy Maas for $19.50 per square foot.
"These shops are absolutely adorable," Johns said. "We just found them to be delightful people; they're very enthusiastic and have lots of cute ideas."
Maas added: "(The McCrumbs) do a lot of marketing, so we feel they'll be successful. They are also very active in the communities where they have stores."
That involvement, April said, includes being active with local charities and being very active on social media.
She hopes to open the store in March, after completing a build-out on the space. Plans include knocking down a wall to make the entire space visible, and painting the building turquoise with purple awnings. April recently submitted a request to Ann Arbor's Historic District Commission to install the awnings.
"We definitely have a lot of personality and we wanted to show that on the outside and inside of our building," she said.
"People will know something different is going on in that space. The building has lots of character which really drew us to it; it fits our personality," she continued.
April plans to hire a small team of employees starting in February.
Lizzy Alfs is a business reporter for AnnArbor.com. Reach her at 734-623-2584 or email her at lizzyalfs@annarbor.com. Follow her on Twitter at http://twitter.com/lizzyalfs.