Posted on
Sat, Dec 17, 2011 : 5:58 a.m.
Ann Arbor optometrist: New lenses offer seamless vision for bi-focal wearers
By Laura Blodgett
Bi-focal wearers who are weary of traditional progressive lenses now have a new option. New bi-focal lenses—called emPower! electronic eyeglasses — enable wearers to look between the distance, intermediate and reading portions of the lens without the distortion that happens when you move your eye from one field to another.
"With progressive lenses, the problem has always been — and still is — that the area that you look through for intermediate and reading is limited. It does not go from edge to edge," said Dr. Steven Bennett, owner of Bennett Optometry, which says it recently became the first Michigan optometrist to carry the glasses. "At those edges there's distortion and a lot of people can't get used to that. But it's the best we had at this point."
Until now.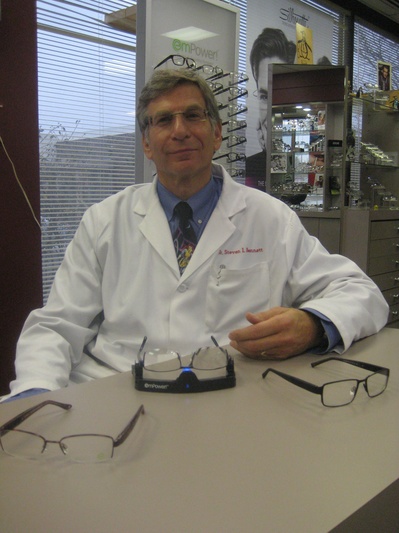 Laura Blodgett | For AnnArbor.com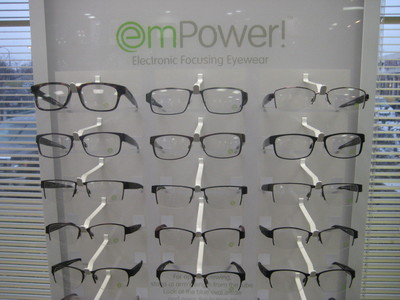 Laura Blodgett | For AnnArbor.com
The secret of PixelOptics' emPower! electronic eyeglasses is a transparent liquid crystal layer in the center of each lens that electronically activates the reading portion when the wearer needs it.
Turning the reading portion on or off happens virtually instantaneously.
When the wearer taps the right temple, it activates the crystal, which turns on the reading area. When the wearer taps them again, it turns off the reading portion, allowing them to perform activities that involve distance vision.
"If you are at a seminar taking notes and looking up at a PowerPoint [presentation], the change is less than the time of a blink," said Bennett. The lenses have almost edge-to-edge clarity from top to bottom.
Some believe emPower! eyeglasses will become the choice for the tens of millions of consumers that suffer from presbyopia, the diminished ability to focus on near objects that affect many starting around the age of 40.
"This is a lens that really can help golfers and active people that hate their progressives because of the distortion and can't be as active as they would like," said Bennett, who recently ordered a pair for himself.
Although Bennett initially thought the glasses would appeal to a select niche, he would not be surprised if it appealed to a larger audience.
"For people who really want the best vision, these lenses have much better optics due to its free-form lens design, which is a higher technology."
Similar to a cell phone, the glasses come with a charger, which has a light indicator that shows when they are done charging. "You put the glasses in the charger at night and in the morning you're ready to roll," Bennett said.
One difference from other glasses is that they cannot be run under the tap to clean them, which would be the same as running a cell phone under the water. A cloth is used to clean the lenses.
The frames come in a wide variety of styles from rimless to regular frame, and metal to plastic.
The glasses cost $1,300 for a complete set, including frames, lenses, coatings, charger and all electronics.
"In some cases, if you have a high prescription you're going to pay $900 to $1,000 on a pair of progressive lens, so this is not a big stretch" said Bennett.
Orders take roughly the same amount of time as a regular pair of glasses, typically 10 days to two and a half weeks.
Other local optometrists are taking a wait and see approach.
"We are watching the release of this product closely," said Jennifer Sortor, owner of Ann Arbor Optometry. "If it turns out that demand is high, then other optometrists will start carrying it."