Ann Arbor SPARK
CEO Podcasts: Conversations on Economic Opportunity, Rich Sheridan
Posted on Wed, Oct 24, 2012 : noon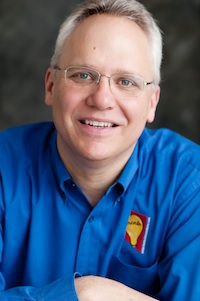 Ann Arbor SPARK CEO Podcasts: Conversations on Economic Opportunity capture the flavor of my one-on-one conversations with over one hundred key economic leaders in the region, including private sector CEOs, elected and appointed public sector leaders, and the executive leadership of key non-profit and academic institutions. The podcast series is designed to not only highlight that expertise, but also make it available to others who could benefit from the wisdom those business leaders can share.
Ann Arbor is full of businesses that are leading Michigan's economic turnaround. Innovative businesses large and small have found success in Ann Arbor. Menlo Innovations, a custom software firm founded by Rich Sheridan in 2001, has helped lead the pack of IT businesses located and growing in Ann Arbor.
In my conversation with Rich Sheridan, he talks about bringing the joy back to one of the most unique endeavors in the history of man-kind: inventing software. He discusses the Ann Arbor region's business climate, the software industry, and the vibrant culture and community of the Ann Arbor region. He also details the innovation leadership techniques that ensure the company's continued success - techniques that helped the company emerge from the recession as a raging success story of the strength of the Ann Arbor business world.
Listen to our conversation and learn more about how business in the Ann Arbor region works in collaboration with the community, the University of Michigan, and the unique business climate here. There are two parts to this conversation.
Part One:
Part Two:
Check out more CEO Podcasts: Conversations on Economic Opportunity on the Ann Arbor SPARK website!