Posted on
Wed, Oct 20, 2010 : 6:01 p.m.
Cerenis Therapeutics adds to stockpile with another $13.9 million in venture capital
By Nathan Bomey
Venture capitalists are plunging money into Cerenis Therapeutics SA.
The biotech company, which has dual headquarters in Ann Arbor and France, announced tonight that it had raised $13.9 million in venture capital in addition to the $51.7 million it already secured in July.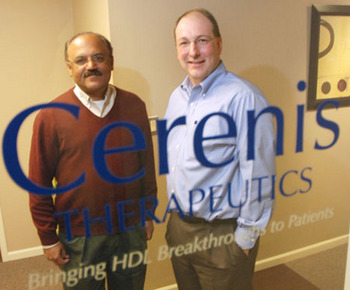 File photo | AnnArbor.com
Collectively, the new financing expands the stockpile of cash Cerenis can tap to develop several therapies to improve so-called "good" HDL cholesterol in patients.
Bill Brinkerhoff, Cerenis' chief operating officer, said the firm would use the funds to continue hiring to support its clinical development efforts. The company has 26 employees, about half in Ann Arbor and half in France.
"We've grown the company continually each year, and we will and have been hiring even this year as we started to expand the group that's running the clinical trial," Brinkerhoff said. "This would support continued growth of the company and the group in Ann Arbor."
The new round of financing comes from a French firm called IXO Private Equity and another international private investor the company did not identify.
The investors, who are new to the company, add to a growing list of firms that have backed Cerenis. That list includes Ann Arbor-based VC firm EDF Ventures, which also backed local startups like HandyLab and Arbor Networks.
Altogether, Cerenis has raised about $162.5 million since it was founded five years ago.
The funding deal Cerenis announced in July was Michigan's largest venture capital deal in four years.
The new capital will underwrite development of the company's most advanced therapy, a drug called CER-001, would treat acute coronary syndrome and is expected to start a Phase 2 clinical trial within a few months. That's the second step in a three-stage validation process required by the U.S. Food and Drug Administration.
But Cerenis also has several other treatments that would improve the body's production of HDL cholesterol, which helps the body eliminate harmful lipids and plaque that can cause diseases.
"We've got a number of programs there that are poised for some investment that we can now invest in with these funds," Brinkerhoff said.
Contact AnnArbor.com's Nathan Bomey at (734) 623-2587 or nathanbomey@annarbor.com. You can also follow him on Twitter or subscribe to AnnArbor.com's newsletters.